The Cool Kitchen Cookbook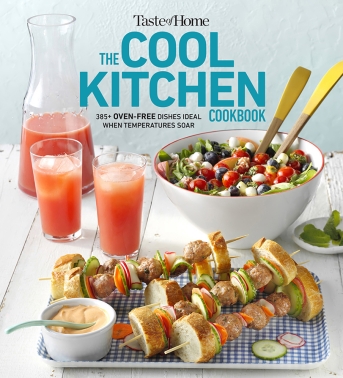 When temperatures soar, serve 392 crowd-pleasing favorites without turning on your oven!
By The Editors of Taste of Home
Published by Trusted Media Brands, Taste of Home
The Cool Kitchen Cookbook lets you set satisfying, crowd-pleasing meals on the table without breaking a sweat. Summer salads make the most of the fresh bounty of seasonal vegetables. No-bake cookies and cheesecakes, homemade ice cream and frozen desserts satisfy the sweet tooth. When you do turn on the stovetop, ultra-quick recipes and one-pot dishes keep the heat to a minimum. Refreshing smoothies, shakes and summer drinks let you kick back and enjoy when it's time to relax. There's even a chapter on backyard grilling—right where the heat belongs in the summer! At-a-Glance icons, expert tips from our Test Kitchen pros, serving suggestions and more.
392 Recipes that take the heat out of summer cooking.

Leave comforting stews and cozy suppers for the colder months—this all-new cookbook will be your go-to resource for when the mercury climbs.

At-a-Glance Icons.

Look for handy icons that spotlight which recipes are freezer-friendly, take advantage of the air fryer, Instant Pot, or slow cooker, or are done in record time.

Recipes for today's convenient gadgets.

Slow cookers, air fryers, Instant Pots and other appliances—these ultra-helpful devices let you create full meals any night of the week and still keep your kitchen cool.

Dozens of Tips & Hints. Expert advice from the pros in the Taste of Home Test Kitchen keep you on track and guarantee the recipes deliver—the first time and every time after.

Complete Nutrition Facts and Diabetic Exchanges. Nutrition information with every recipe help you plan meals that make sense for your family.
CHAPTERS
Refreshing Smoothies & Other Sippers
Light Bites & Small Plates
Summer Salads
Sandwiches, Wraps & More
Marvelous Mains
Stress-free Side Dishes
Slow-Cooked Sensations
Instant Pot, Air Fryer & More
Frosty Treats
No-Bake Desserts
Bonus: Backyard Grilling

RECIPES
Thyme & Fig Goat Cheese Spread
Grilled Nectarines with Burrata & Honey
Green Bean, Corn & Buttermilk Salad
Spicy Cajun Potato Salad
Strawberry-Pineapple Coleslaw
Grilled Garden Veggie Pizza
Mandarin-Berry Steak Salad
Cedar Plank Salmon with Blackberry Sauce
Banh Mi Skewers
Air-Fryer Southwestern Chicken Enchiladas
Fresh Shrimp & Avocado Nachos
The Best Grilled Sirloin Tip Roast
Slow Cooked Chicken Caesar Wraps
Apricot Ice Cream Soda
Almond Butter Swirl Ice Cream
Banana Pudding Parfait
Peanut Butter Silk Pie
No-Bake Chocolate Chip Cannoli Cheesecake
Quick Mango Sorbet
Orange Cream Pops
Paperback | 320 pages | $19.99 USD | 8" x 9" | 9781621459293 | June 6, 2023