Taste of Home Casseroles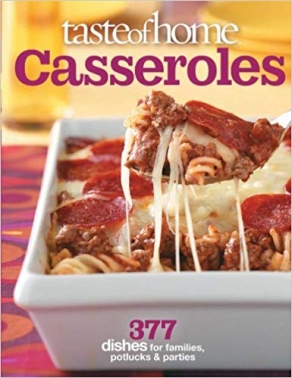 340 Dishes for Families, Potlucks & Parties
By The Editors of Taste of Home
Published by Trusted Media Brands
The people who know comfort food best have created the ultimate collection of bubbling hot bakes 340 one-dish favorites ideal for today's family cook.
Casserole, hot dish, meal-in-on . . . no matter what you call it, these comforting sensations have been family favorites for years. With this hearty collection, today' s cooks can always find the perfect casserole, including:
Weekend Breakfast Bake
Cinnamon Raisin Strata
Biscuit Pizza Bake
Crunchy Turkey Casserole
Mexican Chicken Bake
Mac 'n' Cheese with Ham
Smoked Pork Chops with Sweet Potatoes
Seafood 'n' Shells Casserole
Coconut Carrot Casserole
Mostaccioli Bake
Whether baking a bubbling sensation on a busy weeknight, creating a heartwarming entree for a dinner party or planning a satisfying contribution for a potluck event, the ideal one-dish specialty is always on hand with
Taste of Home Casseroles
!
paperback | 256 pages | 7 x 9 1/8 x 11/16 | 9780898218763 | October 27, 2011