Taste of Home Ultimate Chicken Cookbook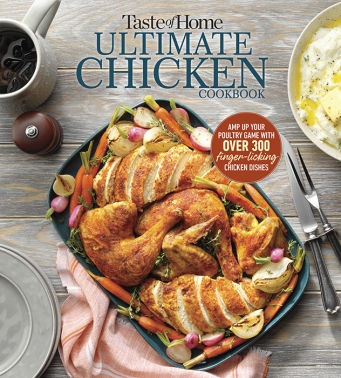 Amp up your poultry game with more than 300 finger licking chicken dishes
By The Editors of Taste of Home
Published by Trusted Media Brands, Inc., Taste of Home
Take chicken from ordinary to extraordinary with the 362 recipes in this must-have book. Turn to Ultimate Chicken Cookbook for fast weeknight dinners, special holiday menus, hearty appetizers and so much more!

From spicy wings and barbecue pizzas to comforting potpies and roasted chicken perfect for Sunday dinners, every poultry dish you crave is here in one handy collection. You'll also discover new favorites, including Buffalo Chicken Stromboli, Chicken Cheesesteak Sandwiches, Mexican Chicken Lasagna and so many others. You'll even find sheet-pan dinners, Instant Pot and air-fried greats, grilled specialties and other chicken dishes that are sure to become staples in your home. Ring the dinner bell and call everyone to the table! Winner, winner chicken dinner!

CHAPTERS
Ultimate Chicken Basics
All-Time Classics
Weeknight Staples
Starters & Snacks
Salads & Sandwiches
Soups, Stews, Chili & More
Stovetop Specialties
Roasted, Fried, Baked & Broiled
From Around the Globe
On the Grill
Instant Pot, Air Fryer & Slow Cooker
Casseroles, Potpies & Oven Greats
Extra Poultry Favorites
BONUS: Turkey Specialties
362 Chicken Recipes. You name it, this book has it! Fried, roasted, grilled, stir-fried, marinated, slow-cooked, basted, braised and baked—no matter how you like your chicken, this book has dishes for you.
Every Cut and Variety You Want. Whether you enjoy skinless boneless chicken breasts, ground chicken, chicken thighs or wings, you'll find plenty of options in this incredible book.
Meal-In-One Options. As if chicken isn't convenient enough, this ultimate chicken book offers one-dish recipes for hurried weeknights. Check out the sheet-pan meals, casseroles, stir-fries and slow-cooked entrees that make mealtime a snap.
44 QR Codes. Scattered throughout the book, QR codes take readers to free content including how-to videos, cooking tips and additional chicken recipes.
Bonus Turkey Chapter. We can't talk chicken without talking, too! Get your gobble on with this bonus chapter, featuring Thanksgiving greats, turkey burgers, grilled turkey legs and so much more.
Paperback | 320 pages | $19.99 USD | 8" x 9" | 9781621457732 | April 5, 2022