Taste of Home What Can I Bring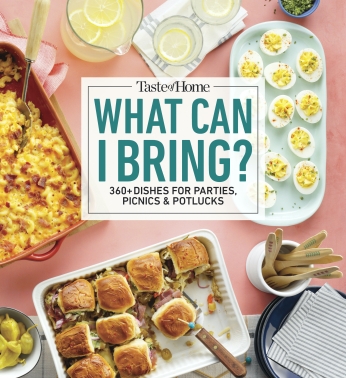 175 Dishes Ideal for Parties, Picnics & Potlucks
By The Editors of Taste of Home
Published by Trusted Media Brands, Taste of Home
Answer the question "What Can I Bring?" with crowd-pleasing dishes perfect for sharing.

Need the perfect dish to pass? Rest assured, it will be a hit when it comes from What Can I Bring! Regardless of the reason…and regardless of the season…all great parties, holidays and gatherings feature tasty foods, munchable snacks and impressive desserts. Let this all-new cookbook help you find the perfect contribution to cocktail parties, tailgates, backyard barbecues, bridal and baby showers, Christmas buffets and other events. Each recipe serves a crowd, travels well and offers the no-fuss ease today's home cooks need most. In addition to more than 250 make-and-take dishes, you'll find packing and traveling tips, suggestions for the ideal foods to bring to specific get-togethers and other tricks for answering the popular question, "What can I bring?"


250+ Potluck-Perfect Dishes. Each recipe in this colorful collection feeds a group and travels well. Best of all, every dish comes together easily with common ingredients, includes step-by-step directions and features prep and cook timelines.
Party Foods Chart. Not sure what to make for the barbecue or tailgate? Wondering what you can bring to the brunch on Sunday? Turn to this handy chart. Organized by type of event and party, it offers suggestions for great bring-a-dish contributions.
"Bring It" Tips. Scattered throughout the book, these ideas help you make the most of your contributions. Keep foods at the right temperature on a buffet, pack up the car with ease and help the hostess with these smart ideas.
Special Slow-Cooker Chapter. Slow cookers make it cinch to bring a hot and hearty dish to a party. Turn here for recipes that are sure to become fast favorites.
Bonus Chapter of Large-Yield Dishes. When you need to contribute to an extra-large event (think church supper, family reunion or pancake charity breakfast), you'll want to check out this popular chapter. These recipes all serve 50 hungry diners or more!
Paperback | 320 pages | $19.99 USD | 8 1/16 x 9" | 9781621458913 | April 11, 2023