Taste of Home Light & Easy Weeknight Cooking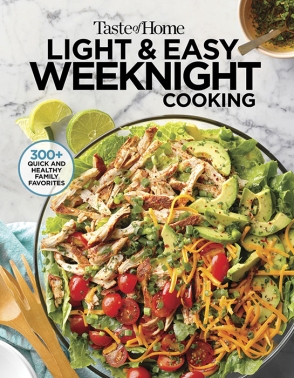 307 Quick & Healthy Family Favorites
By The Editors of Taste of Home
Published by Trusted Media Brands, Inc., Taste of Home
It's true! You can still savor all of the comfort foods you love while eating right—even when your scheduled is slammed. It's simple with Light & Easy Weeknight Cooking.

Inside, you'll discover 300+ delicious recipes that come together in a pinch while paring down calories, fat, sodium, sugar and carbohydrates. Sound too good to be true? Take a look inside and you'll find lighter takes on 30-minute entrees, 5-ingredient recipes, slow-cooker greats, Instant Potâ and air-fryer dishes, and so many others.

If you're looking to serve wholesome meals, maintain a healthy lifestyle and enjoy sensational foods any night of the week, let Light & Easy Weeknight Cooking be your inspiration. With these 307 effortless recipes, you'll quickly see just how simple and delicious eating right can be!

CHAPTERS
Snacks & Munchies
Sides, Salads & Breads
Soups & Sandwiches
30-Minute Classics
Sheet-Pan Suppers
Easy Weeknight Bowls
Meal-In-One Wonders
Half-Homemade Staples
Meatless Mondays
Make-Ahead Greats
Light & Easy Desserts
Workweek Odds & Ends
Fast Comforting Favorites. From swift snacks and garden-fresh sides to savory entrees and scrumptious desserts, you'll find all the comfort foods you crave, each streamlined for quick preparation.
Light Takes on Classic Dishes. Our registered dieticians reviewed each of the recipes in this collection to be sure these all-time favorites keep calories, fat, salt, carbs and sugar at bay…without losing an ounce of flavor.
Recipes Tailored to Busy Lifestyles. Easy-to-assemble bowls, sheet-pan suppers, stovetop skillets, make-ahead meals, one-pot favorites (including slow cooker and Instant Potâ recipes) and convenient half-homemade shortcuts make it easy to put dinner on the fast track.
Complete Set of Nutrition Facts. Every recipe includes a complete set of nutrition facts and diabetic exchanges (when applicable), making it a snap to plan healthy menus any day of the week.
At-a-Glance Icons. When time is tight, look for these six icons that help streamline meal planning. Enjoy weeknight staples ready in 30 minutes or less, Instant Pot® dishes, air-fried standbys, slow-cooked greats, foods that offer a complete nutritional package, and meatless options for everyone.
Paperback | 256 pages | $17.99 USD | 7" x 9" | 9781621457565 | January 4, 2022