Taste of Home Happy Hour Mini Binder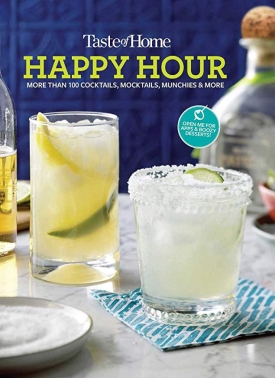 More Than 100+ Cocktails, Mocktails, Munchies & More
By The Editors of Taste of Home
Published by Trusted Media Brands
From martinis to margaritas and from sangrias to slushes, the ideal beverage is only a sip away with Taste of Home Happy Hour! Squelch thirsts at barbecues with a frosty Black-Eyed Susan, impress happy-hour guests with the perfect Moscow Mule and get cozy with a glass of warm Mulled Wine. Become the bartender you always knew you could be with more than 100 beverages. Manhattans, martinis and mojitos…stir them, mix them and shake them up from your home bar with Happy Hour! Bonuses include Boozy Desserts, Mocktails & Munchies!
MOCKTAILS too! Lots of recipes for non-alcholic versions of cocktails so everyone can enjoy Happy Hour!
100+ RECIPES. Most books this size boast 50 recipes or fewer. Taste of Home Happy Hour offers buyer more than 100 recipes! Readers will also discover photos of nearly every item, step-by-step directions, how-to photos and more.
MUNCHIES & APPETIZERS — Recipes for perfectly paired snacks to get your party going. Easy to make recipes that will add just the right bite to your Happy Hour!
BONUS CHAPTER OF "BOOZY DESSERTS." Insider, buyers will find a colorful chapter of cakes, brownies and other treats that call for an assortment of common, easy-to-find liquors. Dessert has never been so much fun!
GIFT-GIVING SUCCESS. The 6x8 trim size makes Taste of Home Happy Hour the perfect gift. Tuck it into a gift basket, include it with a bottle of vodka or gin, or simply hand it to the hostess with a thank-you card for a wonderful evening.
MIXOLOGY 101: Learn what it takes to stock a bar, own the right bartending tools and glassware, mix up simple syrup, host the perfect happy hour and more with a guide to easily (and economically) creating an ideal home bar.
Paper Over Board | 208 pages | 6.25 x 8 | 9781617657382 | June 5, 2018