Taste of Home Cookies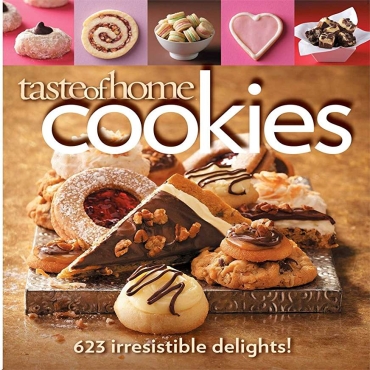 620 Irresistible Delights!
By The Editors of Taste of Home
Published by Trusted Media Brands
This keepsake book of cookie recipes from
Taste of Home
contains over 600 delights—from simple chip-filled drop cookies and gooey, jam-packed sandwiches to fudgy brownies and delicate buttery shortbreads. Take a look inside and you'll find:
More than 600 cookies for every occasion, from after-school snacks and charity bake sales to holiday cookie platters and charming hostess gifts
12 chapters devoted to different cookies, including shortcut cookies, big batch treats, Christmas favorites, and more
Extra recipes for brownies and bars
A chapter dedicated to "big batch baking," perfect for classroom treats and potlucks
Handy how-to tips and a resourceful guide to the art of cookie-making
Hundreds of mouthwatering photos
All recipes have been tested by
Taste of Home
Test Kitchen home economists, so you're guaranteed a great cookie every single time you make it!
Paperback | 384 pages | 8 1/16 x 9 | 9780898217278 | September 17, 2009