Taste Of Home 5 Ingredient Dinners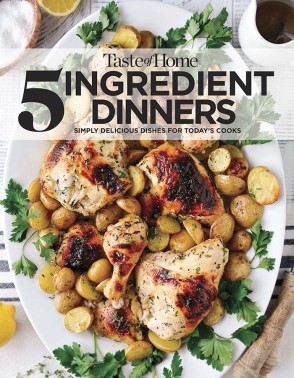 Simply Delicious Dishes for Today's Cooks
By The Editors of Taste of Home
Published by Trusted Media Brands, Inc., Taste of Home
Save money and time when you rely on entrees that call for 5 items or fewer with Taste of Home 5 Ingredient Dinners!

Today's home cooks are looking to make the most of their grocery budget and their time in the kitchen. Now, it's a snap to whip up the mouthwatering dishes everyone craves without a spending a lot on expensive ingredients—or spending hours on meal prep. Simply turn to 5 Ingredient Dinners, the all-new cookbook from Taste of Home. Inside, you'll discover more than 250 main-course recipes perfect for weeknight meals and weekend get-togethers alike! In addition to classics such as Mom's Meatloaf, Best-Loved Lasagna and Fish Tacos, you'll find meal-in-one staples made on a sheet pan, in a Dutch oven or simmered in a slow cooker. These one-dish dinners also call for 5 ingredients of fewer! What could be easier? You'll even find a clip-&-keep list of pantry staples to stock for quick meals, no-fuss serving suggestions to round out your main courses and an entire chapter of "Breakfast for Dinner" sure to shake up mealtime routines. You'll find all of these must-try specialties and more with 5 Ingredient Dinners.

250+ Main-Course, 5-Ingredient Recipes. Everyone needs this handy cookbook featuring nothing but entrée recipes that are ideal for today's busy home cooks. You'll save money and time because every dish calls for just 5 ingredients (not including water, salt, pepper, oils or optional items such as garnishes), and comes together easily. Featuring an impressive variety of main courses, readers will turn to this book for weeknight suppers and on-the-run meals as well as weekend dinner parties and holiday menus.
Clip-&-Keep List of Quick-Fix Staples. Cut this handy list off the back cover flap of the book, and tape it to your pantry or fridge. Created by the experts at the Taste of Home Test Kitchen, it offers a thorough list of the convenience items every cook should have on hand to whip up fast and easy entrées.
"Serve It With…" Suggestions. Planning a complete dinner is a snap when you follow the suggested ideas in these special callouts. Pair the entrees in the book with convenience foods, bakery items and other tasty add-ons from the store.
Dozens of One-Dish Dinners. Turn to this handy cookbook for the meal-in-one convenience every busy cook needs. Complete sheet-pan dinners, casseroles, slow-cooked meals, Dutch-oven delights, stews, pasta standbys and more. You'll find all of dozens of one-dish meals…each calling for just five ingredients…in this exciting book.
Complete Nutrition Facts with Every Recipe. Cooking quickly doesn't mean abandoning healthy-eating goals. A set of nutrition facts after each recipe (and diabetic exchanges where applicable) helps guarantee you're feeding your family right.
CHAPTERS
Meal-in-One Dinners
Beefy Favorites
Poultry Greats
Pork, Ham & More
Vegetarian Entrees
Soups & Sandwiches
Breakfast for Dinner
Paperback | 256 pages | $17.99 USD | 7" x 9" | 9781621458852 | January 17, 2023