Diabetes Quick-Fix with Magic Foods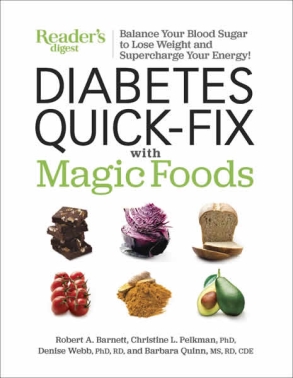 Balance Your Blood Sugar to Lose Weight and Supercharge Your Energy!
By The Editors of Reader's Digest
Published by Trusted Media Brands
RELEASING JUST IN TIME FOR DIABETES AWARENESS MONTH
Discover the 57 magic foods that can balance blood sugar to heal diabetes and pre-diabetes—including 125 delicious recipes.
Out-of-control blood sugar is wrecking havoc on Americans' health and caused more than 100 million adults to suffer from pre-diabetes and type-2 diabetes. And, doctors and researchers have discovered a shocking truth: If your blood sugar levels regularly soar and crash your body may sustain damage to your health. The good news is that by eating the right foods, you can help control blood sugar, keep hunger at bay, and help you feel satisfied longer. Diabetes Quick-Fix with Magic Foods is based on nutrition science, but designed for regular folks who just want to know what to eat. Inside you won't find strict eating regimens or crazy rules about carbohydrates. What you will find are 57 magic foods that can help you bump your diet into sugar-friendly territory.
Add just one of the magic foods to your plate, and you can see results right away, such as:
Barley instead of white rice—thanks to barley's significant stash of soluble fiber it will slash the effect of your blood sugar by almost 70%—try Mushroom-Barley Pilaf
Add avocados to your diet—avocado contains fats that actually improve insulin sensitivity—try Turkey and Bean Chili with Avocado Salsa
Berries, from ruby red strawberries to mid-night blue blueberries, are magic for your blood sugar—they are full of fiber, which keeps blood sugar low, and antioxidants, which benefit every cell in your body—try Cherry-Raspberry Crumble
Pasta, although high in carbs, if cooked al dente and served with a topping containing vegetables, beans, chicken, garlic, and onions, you could get many magic foods on one plate and still keep your blood sugar in a medium range—try Macaroni and Cheese with Spinach
Cinnamon and vinegar are "secret ingredients" that can significantly lower your blood sugar response to any meal—try cinnamon in Moroccan Spiced Carrots or vinegar in Flank Steak with Balsamic Sauce
The more than 125 recipes, meal makeovers, meal plans, and cooking tips make it incredibly simple to get more of the 57 magic foods onto your plate. Your meals will taste delicious and, in addition, they will rein in insulin resistance, offload dangerous belly fat, reverse pre-diabetes, and help heal diabetes while feeling more fully charged and ready to embrace life every day.
Paperback | 336 pages | $19.99 USD | 7 3/4 x 10 | 9781621454045 | October 16, 2018