Who's Who in the Bible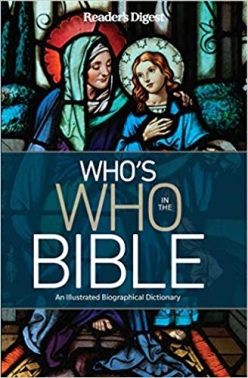 By The Editors of Reader's Digest
Published by Trusted Media Brands
A comprehensive, easy-to-use, and beautifully illustrated guide to more than 500 Biblical characters
What made Abraham, a peaceful man, become a warrior? Who were the women in King David's life? When was the last king of Judah led off into captivity? Was Mary Magdalene a sinner or a woman possessed? The pages of the Bible are filled with stories of fascinating men and women: saints and sinners, the faithful and the foolish, lovers and liars, giants and generals, priests and prophets, the brave and the cowardly, heathens and healers, the pious and the pitiful.
Originally published in 1994,
Who's Who in the Bible
offers in-depth portraits of more than 500 biblical characters, both well-known and more obscure, including:
Jacob, scheming to win his brother's birthright and his father's blessing
David, whose adultery led to murder
Saul, persecutor of Christians transformed into the tireless missionary Paul
Gehazi, struck with leprosy for his greed
Lydia, Paul's first convert in Europe
In addition, this beautifully illustrated, clearly written, easy-to-use reference features:
Nearly 400 color illustrations, including 50 specially commissioned paintings, put faces behind the names
Maps pinpoint 10 turning points of biblical history
Genealogies help make sense of the people in the Bible, from the generations of Adam to the family of Herod the Great
Boxes about such diverse topics as Israel's hostile neighbors, surrogate motherhood, Jewish festivals, sources for the four Gospels, the fate of the 12 apostles, and more
Origins and meanings of names clarify and give new insight into stories
Pronunciation guides make reading the Bible simpler
Biblical citations speed you to chapter and verse
Cross references and a full Index lead you quickly to where you want to go
"Everyone in the Bible," a comprehensive 24-page list of nearly 4,000 names, identifies each person and gives the first biblical citation for each
All in all,
Who's Who in the Bible
is an invaluable companion to your family Bible as well as an outstanding reference book. You will turn to its attractive, fact-checked pages again and again for essential background information and spiritual enrichment.
hardcover w/ jacket | 480 pages | $29.99 USD | 7 3/8" x 11 1/4" | 9781621454564 | October 8, 2019