The Way of the SEAL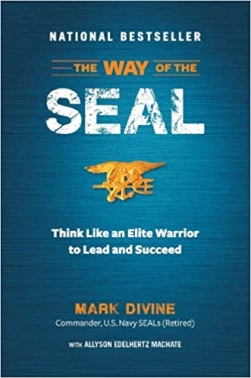 Think Like an Elite Warrior to Lead and Succeed
By Mark Divine, CDR, USN with Allyson Edelhertz Machate
Published by Reader's Digest
From attacking insurgents in Iraq to hunting down Osama bin Laden to rescuing pirate hostages, the U.S. Navy SEALs are known across the world for getting the mission accomplished. Everyone is familiar with the demanding nature of SEAL physical training and few can hope to reach those standards. But it is not just strength and agility that marks a Navy SEAL. Leadership, decisiveness, creative thinking, discipline, adaptability and perseverance are all part of what makes a SEAL a SEAL. They have a completely different worldview, a unique way of approaching every challenge and opportunity that enables them to do what others can't, or simply won't.
Now for the first time, ex-SEAL Mark Divine reveals the training secrets behind how to think like a U.S. Navy SEAL. The Way of the SEAL is the path to success in every endeavor. It goes inside the mind of a Navy SEAL and shows you how to attain the mental toughness, agility, flexibility, and determination that will enable you to accomplish truly impossible feats. A practical guide for businesspeople (or indeed anyone) who need to know the secrets to success, the book will teach you how to:
Lead from the front, so that others want to work for you.
Practice front sight focus, the radical ability to focus on one thing until victory is achieved.
Think offense, all the time, to eradicate fear and indecisiveness and stun the competition.
Smash the box and be an unconventional thinker so you are never thrown off-guard by the chaotic conditions of real-life.
Forge a winning team by picking "A" players and cultivating a motivating environment.
And much more.

Along with true stories of heroic exploits, former SEAL Commander Mark Divine provides exercises, meditations, focusing techniques, and other ways to train your mind to think and respond the way the world's most elite warriors do. Whether your mission is to close the biggest deal of your life or to get your kids into the best schools, THE WAY OF THE SEAL will help you succeed.
Trade Paper | 256 pages | 5 1/2 X 7 3/4 X 0.6 | 9781621452119 | February 2, 2016