Taste of Home Ultimate 5 Ingredient Cookbook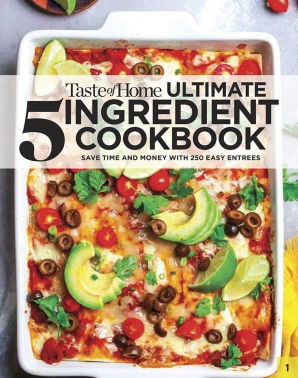 Save Time, Save Money, and Save Stress—Your Best Home-Cooked Meal is Only 5 Ingredients Away!
By The Editors of Taste of Home
Published by Trusted Media Brands, Taste of Home
You don't need a lengthy list of ingredients to create a delicious homemade meal. Instead, put money back in your wallet and time back in your schedule with Taste of Home Ultimate 5 Ingredient Cookbook!
This must-have collection brings you family-favorite recipes that are easy to make and guaranteed to please. The dishes all come together with a handful of ingredients so you can spend less time at the market, less money on your grocery bill and less time in the kitchen. Satisfying main dishes, soups and sandwiches, snacks and appetizers, side dishes, salads, soups, desserts… they're all here, and all made with a few items. Plus, a bonus chapter on grilling guarantees that you'll always have the perfect menu on hand for backyard cookouts, block parties, family reunions and other warm-weather get-togethers.
250+ 5-Ingredient Recipes. Appetizers, snacks, entrees, side dishes, soups, salads, desserts… they're all here and they're all perfect for the time- and budget-conscious cook—whether you're cooking for your family or putting together a party buffet. Every dish calls for just 5 ingredients (not including water, salt, pepper, oils or optional items such as garnishes), and comes together easily.
Easy-to-Follow Icons. Throughout the book, you'll find quick-to-spot icons that identify recipes ready in 30 minutes as well as dishes that are freezer friendly, so you can have dinner ready in a flash!
Complete Nutrition Facts with Every Recipe. Cooking quickly doesn't mean abandoning healthy-eating goals. A set of nutrition facts after each recipe (and diabetic exchanges where applicable) helps guarantee you're feeding your family right.
Bonus Grilling Chapter. When it's time to cook out, you can keep your meals fresh and inventive with a minimum of fuss. You'll be amazed at the variety of marinades, rubs and more you can create with just five ingredients!
CHAPTERS
Breakfast & Brunch
Snacks & Appetizers
Salads & Dressings
Soups & Sandwiches
Entrees
Sides, Breads & More
Desserts & Sweet Treats
Bonus: Grilling
Paperback | 256 pages | $19.99 USD | 7" x 9" | 9798889770183 | April 2, 2024