Taste of Home Slow Cooker Through the Seasons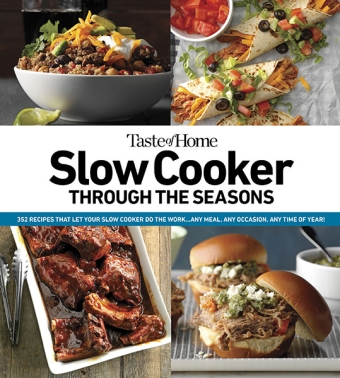 352 Recipes that Let Your Slow Cooker Do the Work
By The Editors of Taste of Home
Published by Trusted Media Brands, Inc., Taste of Home
Due on the success of the first edition, Taste of Home is back with an all-new volume of Slow Cooker Throughout the Year! Now it's easier than ever to use your slow cooker all year long!

Let this handy kitchen tool do the work during summer barbecues and Christmas buffets as well as hurried back-to-school dinners and eye-opening spring brunches. This handy cookbook offers everything from slow-cooked entrees that keep the house cool to warm-you-up beverages when the mercury dips. In fact, you'll find more than 300 specialties for any menu—each made convenient in the slow cooker. And because the recipes are organized by season, it's like having four incredible cookbooks in one!

Spring: Usher in longer days and warmer weather with fuss-free dinners, sides and snacks that take advantage of fresh produce, lighter ingredients and your slow cooker.

Summer: Enjoy these warm-weather entrees, berry desserts and other summer specialties that simmer on their own. Turn here for contributions to church suppers, barbecues and family reunions.

Autumn: From cozy appetizers and savory sides to hearty main dishes and pumpkin delights, these classic recipes are sure to make your slow cooker the staple of fall meals.

Winter: Whether planning hearty weeknight dinners or holiday buffets, make memories with these slow-cooked classics. Warm hearts with one-dish dinners, impressive appetizers, chocolate delights and more!

CHAPTERS FOR EACH SEASON (SPRING, SUMMER, FALL, WINTER)

Snacks & Appetizers

Soups & Sandwiches

Entrees

Sides

Desserts
352 Slow-Cooker Recipes. The ultimate slow-cooker cookbook, this incredible collection offers nearly every dish that simmers to perfection in a slow cooker. You'll even find lasagna, egg bakes, chocolate candies and breads (yes, breads!), all made in a slow cooker.
4-In-One Cookbook. Looking for a dish for the block party? Turn to the summer section of this handy book for dozens of ideas. Need a surprise for a Halloween party? See the snacks area of the autumn section. It's the one slow cooker book that helps beat the clock all year long!
Nutrition Facts with Every Recipe. Enjoying the slow-cooked comfort foods you love doesn't mean tossing health goals out the window. Each recipe offers a complete set of nutrition facts (and diabetic exchanges when applicable), making it a snap to feed your family right—any time of the year!
Paperback | 320 pages | $19.99 USD | 8" x 9" | 9781621457589 | January 25, 2022