Taste Of Home Slow Cooker Mini Binder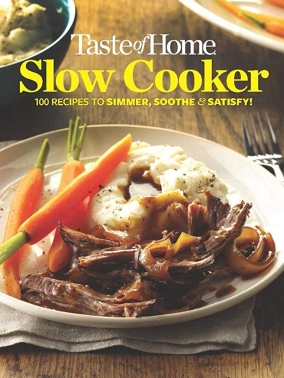 By The Editors of Taste of Home
Published by Trusted Media Brands
Taste of Home Slow Cooker Mini Binder features 100 mouthwatering recipes—all of the hearty, stick-to-your-ribs comfort foods you love—in one new collection. It's never been easier (or more delicious) to take advantage of the time-saving convenience slow cookers have to offer than with this spectacular new cookbook from Taste of Home.
There's nothing like the aroma of a home-cooked dinner welcoming you at the door. Preparing those mouthwatering meals is a snap with our Top 100 comforting recipes in Taste of Home Slow Cooker Mini Binder.
With a just a hint of planning, an incredible meal can simmer to perfection on its own while you're at work, running errands, or spending time with the family. Best of all, most of the entrees are meal-in-one specialties, so you can set dinner on the table in a flash.
Plus appetizers and desserts you can make in your slow cooker!
RECIPES
Sweet and Savory Brisket
Chicago-Style Beef Sandwiches
Ham Tetrazzini
Cranberry Turkey Breast with Gravy
Spinach Alfredo Lasagna
Stamp-of-Approval Spaghetti Sauce
Vegetarian Chili Ole!
Stuffing from the Slow Cooker
Seafood Cheese Dip
Apple Betty with Almond Cream
Paper Over Board | 208 pages | 6.25 X 8 | 9781617656125 | February 7, 2017