Taste of Home Skinny Slow Cooker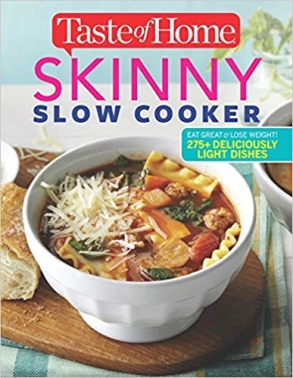 Cook Smart, Eat Smart with 352 Healthy Slow-Cooker Recipes
By The Editors of Taste of Home
Published by Trusted Media Brands
Now it's easier than ever to cook smart and eat smart thanks to the new title from Taste of Home—Light Slow Cooker! Today's home cooks care about serving healthy meals but struggle to find time to prepare foods that satisfy yet pare down calories, fat and sodium. With the 350+ recipes in Light Slow Cooker, however, setting a heart-smart meal on the table is a snap! With a little planning, a few everyday ingredients and a slow cooker, family cooks can easily create meals so hearty, no one will realize they are eating light!
Based on the tremendous success Taste of Home Books experienced with best-selling titles "Slow Cooker," "Slow Cooker Throughout the Year," Casseroles, Slow Cooker & Soups," "Comfort Food Diet" and "Comfort Food Makeovers," it seemed like a natural fit to offer today's family cooks a collection of slow-cooked dishes that make healthy eating a priority. Inside this collection, readers will find common ingredients, Nutrition Facts with every recipe, Diabetic Exchanges where applicable and, most important, mouthwatering meals that come together in a slow cooker and satisfy the entire family!
A special icon notes dishes that call for five ingredients or fewer and prep and cook timelines make meal planning simple. Two "Bonus Chapters" help family cooks round out menus with garden-fresh salads and light desserts that skim back on calories, sugar and fat. Best of all, these recipes come from real home cooks who know how to serve healthy family meals and save time in the kitchen. These are the dishes they rely on most…and the foods that received thumbs-up approval at the dinner table. Cooking smart, eating smart, losing weight and feeling great has never been more delicious than with Taste of Home Light Slow Cooker!
CHAPTERS
Lighten Up (Intro)
Soups & Sandwiches
Beefy Entrees
Chicken & Turkey
Pork, Ham & More
Seafood & Meatless Classics
Slow-Cooked Sides
Bonus: Salads
Bonus: Low-Fat Desserts
Trade Paper | 256 pages | 7 X 9 | 9781617655807 | November 15, 2016