Taste of Home Recipe Makeovers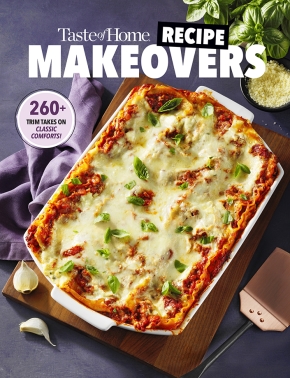 Relish your favorite comfort foods with fewer carbs and calories and less fat and salt
By The Editors of Taste of Home
Published by Trusted Media Brands, Inc., Taste of Home
Cutting back on fat,calories and carbs doesn't mean sacrificing flavor! Lose weight, get healthy and eat great! It's a snap with the light but hearty family-favorites found in this all-new cookbook.
Now it's easier than ever to enjoy piping-hot lasagnas, juicy burgers, lip-smacking mac & cheese, hearty stews, finger-licking fried chicken and even mom's meatloaf…all while keeping healthy-eating goals in check. The pros at the Taste of Home Test Kitchen trimmed down all-time classic comfort foods, turning them into heart-smart choices you'll be excited to serve. They also cut back the sugar and butter from cakes, pies, brownies and other crowd-pleasing desserts. They even created Bonus Chapters of satisfying and simply delicious gluten-free and vegan dishes. You'll also find tips for lightening up your own recipes and step-by-step photos demonstrating insider cooking techniques sure to lead you to success. Lose weight, get healthy and eat great!
CHAPTERS
Down-Home Breakfast Staples
Savory Snacks & Appetizers
Comforting Soups & Sandwiches
Hearty Beef & Poultry Entrees
Pork, Ham & More
Fish & Seafood Dinners
Meatless Meals
Lightened-Up Sides
Breads, Biscuits & More
Trimmed-Down Sweets
Bonus: Gluten-Free Comfort Foods
Bonus: Vegan Specialties

More Than 270 Recipes. Hundreds of recipes deliver all of the flavor you'd expect from Taste of Home with only a fraction of the calories, fat, salt, carbs and/or sugar. Best of all, every dish relies on common ingredients and pantry staples you likely already have on hand.
6 At-A-Glance Icons. Easily find Instant Pot, slow cooked and air fried recipes with handy icons as well as icons spotlighting meatless, 30-minute and protein-packed dishes.
Complete Nutrition Facts and Diabetic Exchanges. Whether you're following a specific diet or simply watching what you eat, the nutrition facts offered with every recipe help you set the right foods on the table. You'll also find diabetic exchanges with applicable recipes.

2 Bonus Chapters: Gluten-Free Recipes and Vegan Dishes.

Two bonus chapters help today's family cooks prepare gluten-free and vegan dishes the whole family will love.

Tips to Lighten Up Your Own Recipes.

The pros at the Taste of Home Test Kitchen offer easy ideas and techniques to pare down sugar, fat and calories from your most-loved recipes.
Paperback | 256 pages | $17.99 USD | 7" x 9" | 9781621458265 | December 27, 2022