Taste of Home One Pot Favorites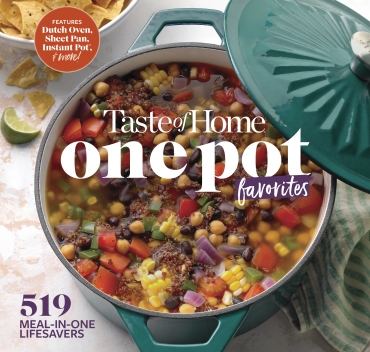 519 Dutch Oven, Instant Pot, Sheet Pan and other meal-in-one lifesavers
By The Editors of Taste of Home
Published by Trusted Media Brands, Inc., Taste of Home
One-dish meals have been a dinnertime staple for years—and today they're more popular than ever! That's why the team at Taste of Home assembled 519 best-of-the-best recipes for the incredible new cookbook One Pot Favorites.

From Instant Pot meal-in-one dishes to complete dinners baked on a sheet pan, these hearty one-dish wonders can't be beat. You'll also find simmering Dutch oven specialties, cast-iron skillet suppers, slow-cooker classics, satisfying stews and many more recipes, each offering the one-dish convenience today's family cooks crave.

SELLING POINTS:
519 meal-in-one dishes for busy weeknight suppers, weekend dinner parties, potlucks and even holidays.
A section of Instant Pot/slow cooker recipes helps you decide whether you want to cook it fast or cook it slow.
A special "Breakfast Icon" points out satisfying egg bakes, frittatas, quiches and other meal-in-one breakfasts that start the day deliciously.
Two additional icons highlight recipes that 1) freeze well for busy nights; and 2) offer the health benefits of dishes that include a lean protein, vegetable/fruit and whole wheat.
Menu additions, or "easy add-ons," point out fast salads, quick breads and no-fuss desserts that pair perfectly with specific one-pot entrees.
Hundreds of photos throughout this incredible collection make meal planning so much easier…and more fun!
CHAPTERS
Slow Cooker & Instant Pot
Dutch Oven
Skillet & Stovetop
Sheet Pan Meals
Pizza & Pasta
Soups, Stews & Chilis
Oven-Baked
RECIPES
Glazed Smoked Chops with Pears
Ham & Swiss Potatoes
Italian Sausage Orzo
One-Pan Chicken Rice Curry
Sausage Hash Brown Bake
Sunday Paella
Slow-Cooked Chicken & Dumplings
Paperback | 448 pages | $19.99 USD | 8" x 9" | 9781621458937 | January 3, 2023