Taste of Home Most Requested Recipes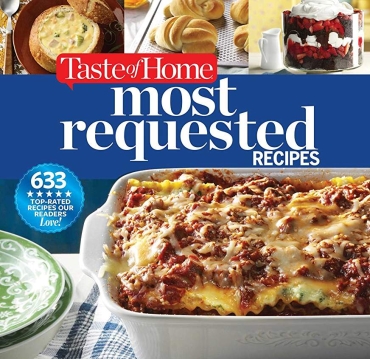 633 Top-Rated Recipes Our Readers Love!
By The Editors of Taste of Home
Published by Trusted Media Brands
ENJOY 500 OF THE BEST OF OUR BEST, ALL-TIME FAVORITE, 5 STAR, MOST REQUESTED RECIPES ALL IN ONE BRAND NEW COLLECTION!
Take the guesswork out of cooking with Taste of Home Most Requested Recipes! Each of the 500 dishes in this mouthwatering collection is a Five-Star dish as rated on TasteofHome.com, won a recipe contest and/or received raves from Taste of Home readers! Whether whipping up a family favorite on a busy weeknight, creating an attention-getting dish for an office potluck, serving crowd-pleasing munchies for a weekend party or a planning a spread for a special occasion, you'll find what you're looking for here. After all, these are the foods today's home cooks serve and share time and again. Each tried-and-true recipe has been tested and approved by the experts in the Taste of Home Test Kitchen, offers easy-to-follow instructions and calls for ingredients you likely have on hand! Serve your family nothing but the best! With Most Requested Recipes at your fingertips, it's never been easier!
CHAPTERS

Appetizers, Snacks & Beverages

Breakfast & Brunch

Soups & Sandwiches

Side Dishes, Salads & More

Hearty Main Dishes

Casserole Entrees

Slow Cooker Dinners

Breads & Rolls

Cakes, Pies & Desserts

Cookies & Candies

Seasonal Specialties
Hardcover with concealed wiro | 448 pages | 8x9 | 9781617656545 | September 12, 2017