Taste of Home Mediterranean Favorites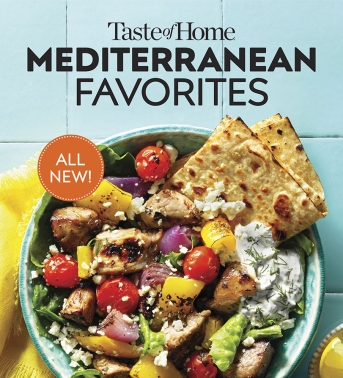 Savor the Good Life with Hundreds of Popular Dishes
Taste of Home Mediterranean
By The Editors of Taste of Home
Published by Trusted Media Brands, Taste of Home
Take your taste buds on a mouthwatering trip with Greek, Tuscan, Moroccan and other vibrant flavors inspired by the sun-kissed coastal region of the Mediterranean Sea. This follow-up to Taste of Home's top-selling Mediterranean cookbook offers even more tantalizing recipes that are light, fresh and loaded with flavor.

Easy-to-find ingredients, familiar cooking methods and step-by-step instructions makes quick work of getting a delicious meal on the table in no time flat. It's a snap with this sensational collection of tried-and-true favorites. That's right! These 240+ recipes are shared by today's family cooks who have happily adopted this light and lively Mediterranean cuisine in their own homes.
Eat well everyday with 240+ full-flavored dishes that make the most of fresh ingredients—veggies, seafood and other invigorating Mediterranean staples that are as refreshing as they are delectable. You'll also find complete nutrition facts with each dish so you exactly what you're serving.
Discover recipes for every type of dish—from impressive appetizers and mezze plates to satisfying entrees, soups, salads, sides and more.
4 At-a-Glance icons make it a snap to find the dishes that best fir your lifestyle. "Fast Fix" recipes spotlight items ready in half an hour; "5-Ingredient" dishes call for just a handful of items; "Slow Cooker" items simmer up meals while you're away; and "Freeze It" recipes store well and cook up in a jiffy.
Indulge in weekend appetizers, including mezze, tapas, small plates and antipasti platters that will easily impress partygoers and guests.
Bonus chapter of "Yia Yia's Favorites" features Grandma's classic Greek and Mediterranean foods that families have adored for generations.
CHAPTERS
Mezze, Tapas & Small Plates
Salads, Soups & Breads
Cheese & Eggs
Pasta, Rice & Grains
Vegetables & Legumes
Beef & Lamb
Poultry & Pork
Fish & Seafood
Sweets
Bonus: Yia Yia's Favorites
Paperback | 320 pages | $22.99 USD | 8" x 9" | 9798889770152 | March 5, 2024