Taste of Home Meal Planning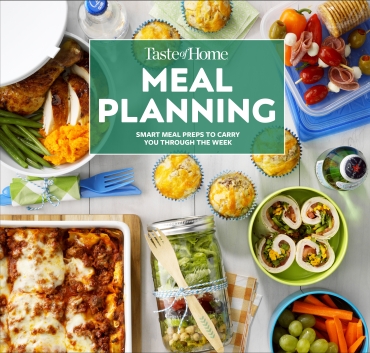 Smart Meal Prep to carry you through the week
Published by Trusted Media Brands, Taste of Home
Today's family cooks know that a bit of planning goes a long way when it comes to serving up the homemade favorites folks crave. That's why they're turning to this ultimate resource for make-ahead convenience—Taste of Home Meal Planning. Featuring more than 300 smart, sensible, speedy and sensational recipes, this must-have cookbook is every home cooks dream come true! The all-new book also offers monthly meal plans, the secrets to cooking once and eating all week, Test Kitchen approved frozen meals that reheat in a jiffy, on-the-go breakfast ideas and more! Whether you're a meal-planning pro or simply looking to beat the kitchen clock on busy weeks, you'll make the most of your time—and your grocery bill—with the incredible recipes, meal plans, kitchen hacks and timesaving ideas found in Taste of Home Meal Planning.

300+ Test Kitchen-Approved Recipes. We test our prep-ahead and freezer recipes, so you're guaranteed good results with these meal preps. Instructions for freezing, reheating, storing and serving are highlighted throughout.
Monthly Meal Plan. We've done the planning for you, so a month's worth of meals is on hand and ready to serve.
Shopping Lists and Menu Planning Pointers. Become the meal-planning pro you know you can be with these easy-to-follow guides, plans and charts.
Nutrition Facts/Diabetic Exchanges Included. Each recipe includes a complete set of nutrition information and diabetic exchanges (when applicable) to make it a snap for readers to address specific dietary concerns, calculate weight-loss program points or simply plan well-balanced meals.
CHAPTERS
Get Started with Meal Prep
Freezer Meals
Cook Once; Eat All Week
Make One, Freeze One
Meal Preps
Overnight Breakfasts
Meals In a Jar
Make-Ahead Lunch Boxes
Grab-N-Go Greats

Dinner, Reimagined

Tips & Tools Resource

RECIPES

Chilled Turkey Pasta Salad

Cornmeal Pancake Mix

Chicken Corn Soup with Rivels

Pear-Berry Breakfast Tarts

Pulled Pork Parfait

On-the-Go Breakfast Muffins

DIY Ramen Soup

Easy Marinated Flank Steak

Debra's Cavatini

Freezer Salsa

25-Minute Turkey Chili

Microwave Egg Sandwich
Concealed Wiro | 448 pages | $24.99 USD | 8" x 9" | 9781617659300 | June 30, 2020