Taste of Home Make Ahead Comfort Food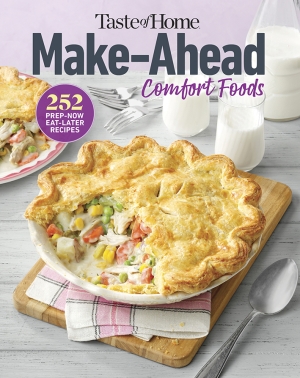 252 Prep-Now Eat-Later Recipes
By The Editors of Taste of Home
Published by Trusted Media Brands, Inc., Taste of Home
Savor hundreds of hearty comforts with freezer-friendly recipes, overnight dishes and other prep-now/eat-later specialties.

A tight schedule doesn't mean avoiding your favorite comfort foods. Simply make them ahead of time! From the experts at Taste of Home, Make-Ahead Comfort Foods helps you serve the stick-to-your-ribs greats your family requests most—no matter how busy your household might be. Take advantage of this book's breakfast bakes that set up in the fridge overnight, savory meats that season themselves in an 8-hour marinade and slow-cooked classics that simmer to perfection while you're working…you'll find these satisfying delights and others inside this handy cookbook. You'll even find a Bonus Chapter, "Cook Once, Eat Twice," that includes a selection of serve one/freeze one casseroles and shows you how to prepare one meal and turn the extras into a second dinner so delicious no one will realize they're enjoying leftovers. At-a-Glance icons, serving suggestions and more ensure that Make-Ahead Comfort Food is one cookbook you'll reach for time and again.


250+ Comfort Foods Offering Prep-Now/Eat-Later Appeal. Whether you're a tried-and-true meal planner or simply like to keep a hearty entrée in the freezer for hectic nights, this all-new cookbook is sure to be your most-used kitchen helper.
3 At-A-Glance Icons. Look for handy icons that spotlight which recipes are freezer-friendly (and include re-heating directions); take advantage of the slow cooker; or set up in the refrigerator overnight.
Bonus Chapter: An entire section of dishes that help you cook once and eat twice make this book worth the purchase. Prepare two hearty dishes of Cheese-Stuffed Shells—one for the table and one for the freezer. Or, make tasty Company Pot Roast one night, then use up the extras by preparing Beef Fried Rice the next day. Bake Bourbon-Spiced Glased Ham on Sunday then whip up Ham and Broccoli Cornbread on Monday. Two great meals; zero leftovers!
Dozens of Tips & Hints for Working Ahead. Callouts that offer easy ideas for using up leftovers and instructions for advance prep—whether you assemble in advance to cook later, precook for easy reheating, or freeze the ultimate in last-minute convenience. What could be easier?
Frozen Foods 101 & Storage Secrets. Save time (and money) when you know how to stock your freezer and fridge with comfort foods.
CHAPTERS
The Secrets to Make-Ahead Success
Freezing Foods 101
Basics of Meal Prep
All About Casseroles—the perfect make-ahead dish
Guide to Slow Cooker Use and Safety
Time-Saving Breakfasts
Snacks & Appetizers
Side Dish Staples
Soups, Stews & Chilis
Make-Ahead Main Courses
Delicious Desserts
Bonus—Cook Once, Eat Twice
Paperback | 256 pages | $17.99 USD | 7" x 9" | 9781621458876 | February 7, 2023