Taste of Home Favorites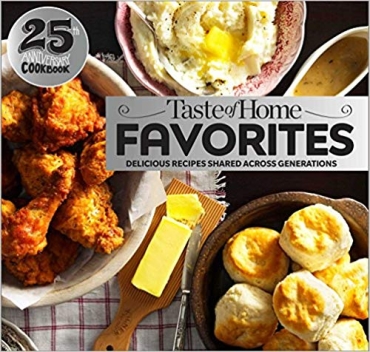 25th Anniversary Edition
By The Editors of Taste of Home
Published by Trusted Media Brands
For 25 years
Taste of Home
has helped millions of cooks satisfy their families with comforting meals. We're celebrating that achievement with our greatest collection of family favorites ever—the
Taste of Home Favorties--25th Anniversary Edition!
Our Test Kitchen pros selected the most-loved recipes, contest winners, highest-rated dishes and all-time classics and set them into this incredible cookbook. From our most-popular weeknight dinners to the ultimate holiday desserts, these 496 recipes have stood the test of time in homes from coast to coast. Plan a hearty meal, impress friends with your baking skills, master the grill, host the ultimate brunch, beat the clock any night of the week—it's easy to do it all with the
Taste of Home Favorites--25th Anniversary Edition Cookbook
at your side! Enjoy our best recipes shared across generations.
CHAPTERS
Welcome to our 25th Anniversary Party!
History of Taste of Home
Behind the Scenes…The Life of a Recipe
Kitchen Basics/References
25 Years of Grand-Prize Winners
25 Most-Popular Recipes of All Time
5-Ingredient Favorites
Fast-Fix Staples
Best Oven Recipes
Stovetop Sensations
Slow-Cooked Sensations
Grilled Greats
Eat Right, Feel Great
Unforgettable Desserts
Retro Dinner Menu Revivals
Best of Taste of Home Holidays
RECIPES
Best-Ever Stuffed Mushrooms
Prize-Winning Buffalo Wing Dip
Ravioli Pops
Spiced Chai Mix
5-Star Garlic Bread
Best Banana Chip Pancakes
Caramel Fudge Cheesecake
Mom's Chicken Tater Bake
Upside-Down Pizza Casserole
Slow-Cooked Beef Tips
Texas-Style Lasagna
Chili Skillet Dinner
Dad's Stuffed Burgers
Grilled-to-Perfection Pork Chops
Valentine Puffs
Favorite Irish Stew
Easter Sunday Brunch Bake
World's-Best Hot Crossed Buns
Firecracker Salmon
Pumpkin Martini
Thanksgiving Stuffed Turkey
Holiday Ham with Citrus Sauce
Santa's Best Cupcakes
New Year Bellini
Morning-After Sausage Bake
Fabulous Fajitas
Top Clam Chowder
Slow-Cooked Cinnamon Rolls
Impressive Cheesecake Trifle
Award-Winning Soufflés
Three-Chocolate Fudge
Grand-Prize Chocolate Chip Cookies
Concealed Wiro | 448 pages | $24.99 USD | 24.99 | 9781617657627 | September 11, 2018