Taste of Home Farmhouse Family Dinners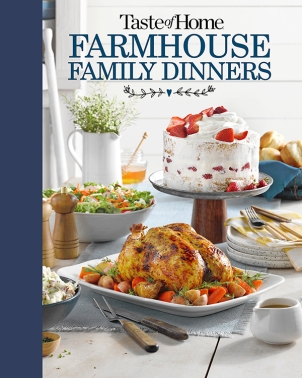 Turn Sunday night meals into lifelong memories
By The Editors of Taste of Home
Published by Trusted Media Brands, Inc., Taste of Home
Few things bring families together like sharing a comforting homecooked meal. Creating those memories is easier, quicker and more rewarding than ever with Taste of Home Farmhouse Family Dinners.
This lovely keepsake cookbook features more than 200 recipes perfect for special nights around the dinner table. From Roasted Chicken and Savory Pot Roast to Hearty Potato Chowder and Five-Cheese Lasagna, the appeal of a homemade Sunday meal simply can't be beat. You'll find all of these classic recipes and hundreds of others in addition to a handy menu planner, table settings, time-saving tips and stories from families about their own Sunday dinners. Cherish the satisfaction of serving a meal you prepared yourself and create memories that last a lifetime. It's easy with Farmhouse Family Dinners from Taste of Home.

CHAPTERS
Starters
Salads & Breads
Side Dishes
Entrees
Desserts
Sunday-Dinner Menu Planner

SELLING POINTS:
200+ Recipes. From classic pot pies to crispy fried chicken, these are the mouthwatering foods that made Sunday dinners a piece of Americana. You'll find them within the pages of this beautiful book, as well as home-baked breads and biscuits, stick-to-your ribs sides and desserts that cap off any meal deliciously.
Hundreds of Color Photos. Featuring the beautiful photography you've come to expect from Taste of Home, this truly is a book you'll hand down for generations to come.
"Serve It With…" Suggestions. Planning a Sunday dinner is simple when you follow the suggested ideas in these special callouts. Prepare Mom's Meat Loaf on page 107, then see the "Serve It With.." suggestion, that recommends pairing it with Garlic Mashed Potatoes from page 228.
Sunday-Dinner Stories. Read heartwarming, hilarious and thought-provoking stories from around the dinner table as shared by other home cooks.
Handy Menu Planner. Want to prepare a Sunday dinner but aren't sure where to begin? Turn to this at-a-glance planner for complete menus.
Nutrition Facts. Today's cooks need to know what their feeding their families. Whether you're cooking for someone on a special diet or not, the nutrition facts included with every recipe make it a snap to prepare the sort of meals you feel good about serving.
Hardcover | 336 pages | $26.99 USD | 9781621457350 | September 21, 2021