Taste of Home Fall Baking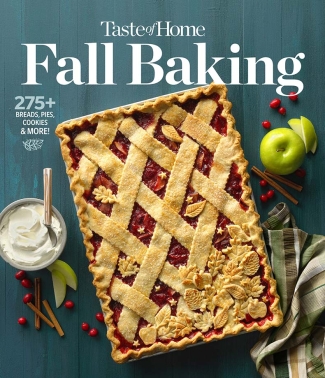 The breads, pies, cakes and cookies that make autumn the most delicious time of year
By The Editors of Taste of Home
Published by Trusted Media Brands, Inc., Taste of Home
Savor all of your fall favorites with autumn's best baked goods in this collection of more than 275 mouthwatering recipes.
Inside you'll find more than 275 impressive cakes, snackable cookies, holiday pies, impressive tarts and all the buttery breads you adore most. You'll also rely on dozens of how-to photos and step-by-step instructions as well as baking hints and tips from our Test Kitchen pros. Additional QR codes link you to handy how-to videos and collections of free recipes. A special Bonus Chapter offers savory potpies, bubbling casseroles and other oven-fresh entrees sure to warm the chilliest fall evening. Autumn is the perfect time of year to bake up a sensational new favorite. Let this keepsake cookbook show you how.

CHAPTERS
Favorite Fall Ingredients
All-Time Fall Favorites
Classic Yeast Breads
Quick Breads
Cookies, Brownies & Bars
Pies & Tarts
Cakes & Cupcakes
Pastries & Bakeshop Sweets
Autumn's Best Desserts
Bonus: Pot Pies & Other Cozy Dinners

Index by Flavor/Ingredient
Index by Recipe Title
SELLING POINTS:
More Than 275 of Autumn's Best Baked Goods. Whether you're a seasoned baker, bake as a hobby or simply like to surprise the gang with a treat every now and then, this incredible cookbook features every recipe you'll need all fall (and winter!) long.
QR Codes and How-To's. The Taste of Home Test Kitchen pros show you, how to create the perfect pie crust, braid a gorgeously intricate loaf of yeast bread, and more via handy QR codes and step-by-step photos.
Free Clip-and-Keep List of Key Baking Staples. Clip out this handy list of must-have pantry ingredients and post it to the inside of your cabinet so you'll always be ready to bake up a new favorite.
A Bonus Chapter of Oven-Baked Entrees. Autumn is the perfect time to get cozy around the dinner table with potpies, corn bread, casseroles and other heartwarming comfort foods. Turn to this memorable chapter for fall's best main courses.
Special Index of Fall Flavors. Craving something with pumpkin? Have a bounty of apples? Turn to this Bonus Index where recipes are organized by key fall ingredients and flavors.
Paperback | 320 pages | $19.99 USD | 8" x 9" | 9781621458289 | September 13, 2022