Taste of Home Everyday Air Fryer Vol 2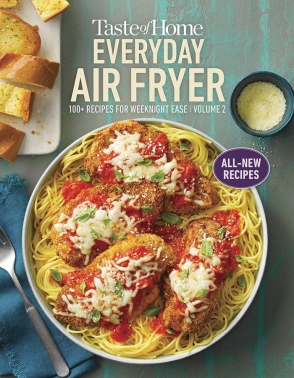 100+ Recipes for Weeknight Ease :Volume 2
By The Editors of Taste of Home
Published by Trusted Media Brands, Inc., Taste of Home
After the tremendous success of the Everyday Air Fryer, the team at Taste of Home couldn't wait to create a second volume loaded with even more must-try bites sure to become new favorites. With Everyday Air Fryer, Vol. 2, you'll get the most out of this popular kitchen device.

With Everyday Air Fryer, Vol. 2, you'll find all-new recipes for whipping up irresistibly crispy, crunchy, lightened-up "fried" food in today's hottest kitchen gadget. Featuring 116 mouthwatering dishes, cooking secrets and easy care and cleaning tips, this book delivers our best advice in one handy cookbook. Discover everything from classic party apps and hot finger foods to easy breakfast treats, comforting weeknight dinners, even luscious desserts—all with less fat and few calories than their oil-immersed counterparts. Whether you're a pro or just getting into the air-fryer game, you'll want to scoop up this hot new cookbook!

CHAPTERS

Snacks & Appetizers
Breakfast & Brunch
Side Dishes
Fish, Seafood & Meatless
Pork Entrees
Poultry Entrees
Beef Entrees
Sandwiches
Sweets & Desserts
100+ air-fryer recipes. Taste of Home Everyday Air Fryer, Vol 2 boasts all the foods you crave, made easy in the air fryer.
Gorgeous full-color photos of every recipe.
Simple users guide, tips and hints regarding using, cleaning and maintaining your air fryer.
Nutrition Facts with every dish and Diabetic Exchanges when applicable.
Paperback | 256 pages | $17.99 USD | 7" x 9" | 9781621458074 | August 16, 2022