Taste of Home Easy Everyday Cooking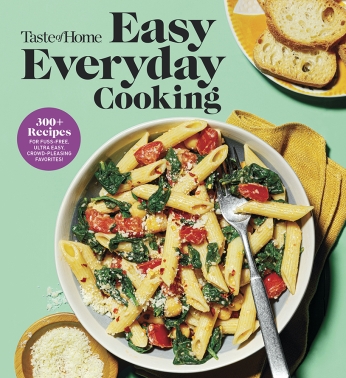 330 Recipes for Fuss-Free, Ultra Easy, Crowd-Pleasing Favorites
Taste of Home Quick & Easy
By The Editors of Taste of Home
Published by Trusted Media Brands, Taste of Home
This must-have volume contains 330 recipes that deliver fabulous flavor with time-saving convenience…everything the modern home cook could ask for. Marvelous main courses, satisfying sides, heartwarming soups and tempting desserts are just the start. There are also special chapters tailored to the way today's cooks create their family's meals—five-ingredient recipes, one-dish wonders and make-ahead options. Shared by talented home cooks and approved by the experts in the Taste of Home Test Kitchen, these recipes prove that the best meals don't rely on time-consuming methods or complex steps—they're made with quality ingredients and prepared with care and confidence.
330 easy-to prepare recipes. Slow-cooked meals with minimal prep time. Dinners that will be on the table in just 30 minutes. Comforting casseroles, satisfying side dishes and sweet desserts. One-dish meals, 5-ingredient recipes and make-ahead dishes. Every recipe the book has been specially chosen because it delivers fabulous results with a minimum of fuss.
Complete Nutrition Facts with Every Recipe. Cooking quickly doesn't mean abandoning healthy-eating goals. A set of nutrition facts after each recipe (and diabetic exchanges where applicable) helps guarantee you're feeding your family right.
Easy-to-Spot Icons. Handy icons throughout the book identify our healthiest recipes, freezer-friendly staples, five-ingredient classics, overnight dishes, recipes that are done in 30 minutes or less, and those that use today's most popular kitchen gadgets—the slow cooker, Instant Pot™ and air fryer. Plus, a special icon index makes it simple to find just the type of dish you're looking for.
Clip-&-Keep List of Quick-Fix Staples. Cut this handy list off the back cover flap of the book, and tape it to your pantry or fridge. Created by the experts at the Taste of Home Test Kitchen, it offers a thorough list of the convenience items every cook should have on hand.
CHAPTERS
Appetizers & Beverages
Breakfast & Brunch
Favorite Soups & Sandwiches
Sides & Salads
30-Minute Entrees
Give Me 5 or Fewer (5 ingredient recipes)
Instant Pot & Air Fryer
Make-Ahead Marvels
One-Dish Recipes
Delectable Desserts
Paperback | 320 pages | $22.99 USD | 8" x 9" | 9798889770121 | January 2, 2024