Taste of Home Diabetes Cookbook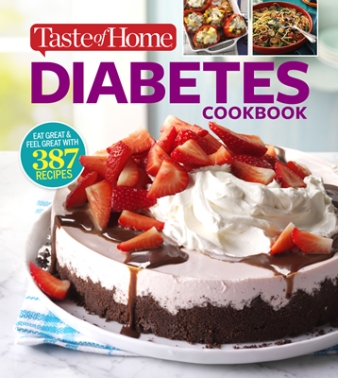 Eat Right & Feel Great with 387 Recipes
By The Editors of Taste of Home
Published by Trusted Media Brands
Eat what you love and feel great with Taste of Home Diabetes Cookbook!
Looking to eat healthier?
Need to cut back on sugar and carbs?
Cooking for someone on a special diet?
With Taste of Home Diabetes Cookbook it's a snap to serve mouthwatering sensations that everyone at the table will savor…whether they're following a diabetic diet or not. Inside this all-new collection, you'll find 370 mouthwatering dishes, each accompanied by a complete set of Nutrition Facts and Diabetic Exchanges. All of these must-try recipes were reviewed by a Registered Dietician, tested at the Taste of Home Test Kitchen and approved by a tasting panel—so they're ideal for everyone! Best of all, these recipes come from today's family cooks who are happy to share the satisfying favorites their families adore!
Paperback | 320 pages | 8-1/16" x 9" | 9781617656835 | November 7, 2017