Taste of Home Cooking School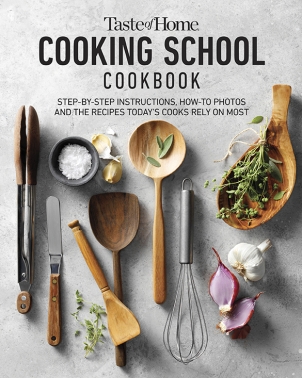 Step-by-step instructions and how-to photos for 100+ recipes today's home cooks rely on most.
By The Editors of Taste of Home
Published by Trusted Media Brands, Inc., Taste of Home
Step-by-step instructions, how-to photos and the recipes today's home cooks rely on most.

No matter your kitchen expertise, you'll cook with confidence with Taste of Home Cooking School Cookbook at your fingertips! Discover the step-by-step techniques every home cook needs to set delicious, hearty, memorable meals on the table. Dozens of how-to photos, tips and hints turn you into the chef and baker you always knew you could be, and 40 QR Codes offer up free online tutorials for even more direction. From roasting a chicken and stuffing a turkey to grilling like a pro and baking up golden yeast breads, you'll discover all the secrets today's cooks rely on most…taught by the pros from the Taste of Home Test Kitchen. Whip up sumptuous holiday menus with all of the trimmings and impress the gang with beautiful cakes, luscious pies and fudgy brownies too good to be true. It's easy! Let Taste of Home Cooking School Cookbook show you how!
181 Need-to-Know Recipes. Lean the tricks behind basics such as carving a turkey, baking perfect cakes and serving appetizers that will have everyone talking about your kitchen know-how.
QR Codes. Simply scan the codes to watch the Taste of Home Test Kitchen staff put together amazing dishes. You'll also find links to additional (free) recipes, techniques that guarantee success and more.
Photo of Every Recipe. Enjoy a full-page photo of every recipe in this amazing collection.
How-To Photos and Step-by-Step Directions. It's never been easier to master today's cooking techniques than with these full-color photos and simple-to-follow directions. From making gravy to baking a tart, you are moments away from creating all the incredible foods you dreamed of.
Useful Charts & References. Substitution charts, storage guidelines, chopping and dicing techniques, a list of must-have kitchen tools and other reference guides make this one cookbook you'll reach for time and again.
Nutrition Facts with Every Recipe. Because it's important to know what you're serving family and friends, we've included a complete set of nutrition facts with every dish as well as diabetic exchanges where applicable.
CHAPTERS
Basic Knife Skills
Kitchen Equipment & Food Safety
Apps & Bevs
Soups
Meatless Mains
Seafood
Poultry
Beef
Pork, Lamb & More
Sides & Condiments
Breakfast & Brunch
Sweets & Baking
Glossary & Equivalent Charts
Hardcover | 320 pages | $26.99 USD | 8" x 10" | 9781621458890 | March 7, 2023