Taste of Home Comfort Food Diet Cookbook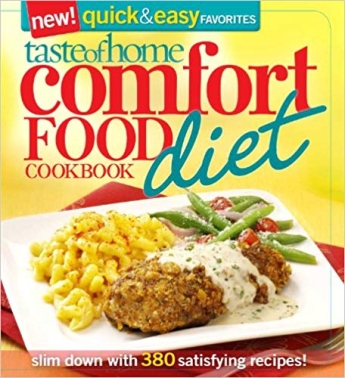 Quick & Easy Edition
By The Editors of Taste of Home
Published by Trusted Media Brands
A unique approach to healthy living and realistic dieting that focuses on comforting recipes that come from real people with bonus sections of recipes that are extra quick and easy for today's busy cooks.
Third in the series, following the best-selling Comfort Food Diet Cookbook, The Comfort Food Diet Cookbook: Quick & Easy Edition offers an all-new collection of recipes for hearty all-time favorites with fewer calories than expected. This new cookbook includes a bonus section of recipes that are extra quick and easy to suit today's busy lifestyle. Realistic portions combined with exceptional taste put pleasure back into healthy eating without sacrificing quality or satisfaction. Recipes include:
Colorful Cheese Omelet
Hearty Chipotle Chicken Soup
Raspberry Chicken Salad
Lemon Mushroom Chicken
Parmesan Pork Medallions
Creamy Tuna Noodles Casserole
All-American Beef Stew
Peanut Butter Chocolate Chip Cookies
Coconut Cherry Cream Squares
Also included are tips from followers of the diet on how they get the most from the program, their weight-loss strategies and advice.
Paperback w/french flaps | 320 pages | 8 1/16 x 9 x 11/16 | 9780898219104 | December 22, 2011