Taste of Home Cast Iron Mini Binder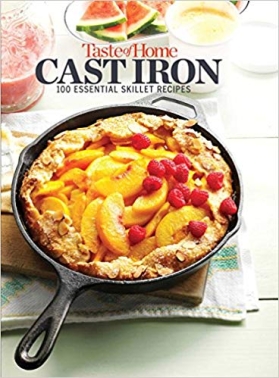 100 No-Fuss Dishes Sure to Sizzle!
By The Editors of Taste of Home
Published by Trusted Media Brands
No longer your grandma's cooking griddle, cast iron skillets are lifesavers for today's home cooks. From seared steaks and crispy fried chicken to golden corn bread and deep-dish pizzas, all-time family favorites come together in a snap with a cast iron skillet. Now, a brand-new collection, Taste of Home Cast Iron Mini Binder, offers all of the easy dishes your gang craves. Stir-fries, frittatas, seafood tacos, and even apple pie and cobblers cook up on the stovetop with this handy cookbook! Two icons point out recipes that call for five ingredients or come together in just half an hour. Grab your skillet! From cast iron greats to weeknight timesavers, the 100 recipes in Cast Iron Mini Binder turn out smokin' hot and delicious every time!
Whether you need a recipe for breakfast, lunch, dinner or even dessert, you'll find the perfect meal-in-a-pan with Taste of Home Cast Iron Mini Binder! This brand-new cookbook features 100 stovetop and campfire favorites perfect when time is tight but a hearty meal is needed. Dig in!
CHAPTERS:
Cast Iron 101
Snacks & Starters
Rise & Shine
Sides & More
Ring the Dinner Bell
Crisps, Cobblers & More
RECIPES INCLUDE:
Spicy Shrimp
Cheesy Skillet Pizza Dip
Gentleman's Whisky Bacon Jam
Loaded Breakfast Potatoes
Roasted Vegetable Frittata
Egg & Spinach Breakfast Burritos
Calzone Rolls
Homey Mac & Cheese
Calico Corn Cakes
Pinwheel Steak Potpie
Summer 2018 Simon & Schuster Adult Distributed Publisher Catalog
Maple-Glazed Pork Chops
Pepperoni Pizza Skillet
Caramel-Apple Skillet Buckle
Bananas Foster Sundaes
Rhubarb Cobbler
Hardcover | 208 pages | 8 x 6.3 | 9781617657405 | July 10, 2018