Taste Of Home Brownies & Bars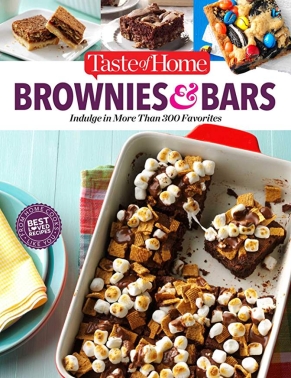 By The Editors of Taste of Home
Published by Trusted Media Brands
From simple to spectacular, brownies and bars just may be the most perfect treats in a family cooks recipe box. After all, whether you're looking for a lunchbox surprise, an after-dinner delight, a proven bake-sale hit or a popular potluck finale, these classic sweets are always welcome solutions. No matter what the occasion, the scrumptious 263 handheld treats in Taste of Home Brownies & Bars are sure to please!
The pros from the Taste of Home Test Kitchen approved and selected the recipes for this special must-have cookbook—each dessert is sure to satisfy the sweet tooth of everyone in your household.
In addition, a chapter devoted to speedy sweets and a "5-Ingredient" icon helps today's bakers whip up a favorite even when the kitchen clock is ticking. A "Freeze It" icon even spotlights those snacks the hold up in the freezer! Baking a sweet sensation has never been easier.
Best of all, these finger-licking bites are shared by today's home cooks. These are the brownies and bars they bake for their own family. Not only did these treats receive thumb's up approval in their homes, but the bakers in the Taste of Home Test Kitchen couldn't get enough of them either! See why for yourself when you bake up any of the must-try sensations in Taste of Home Brownies & Bars!
CHAPTERS
Introduction
Baking Perfect Brownies & Bars
Chocolate Sensations
Fruit-Filled Favorites
Caramel, Nuts & More
Frosted Bites
Time-Saving Treats
Brownie Desserts
Trade Paper | 256 pages | 7 X 9 | 9781617656064 | April 4, 2017