Taste of Home Boards, Platters & More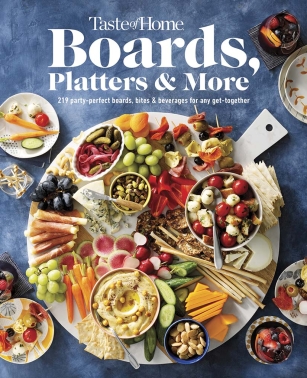 219 Party Perfect Boards, Bites & Beverages for any Get-together
By The Editors of Taste of Home
Published by Trusted Media Brands, Inc., Taste of Home
Today's hosts are flexing their creative muscles to serve all sorts of impressive charcuterie boards, cheese trays, snack platters, cookie plates and more…and this delightful book is here to help.

Inside, you'll find 56 easy-to-assemble boards as well as the recipes that go with them! In addition to striking wine and cheese boards, you'll surprise guests with garden-fresh veggie platters, a taco-night board, pancake & waffle boards, a chocolate tray, a fondue board, a movie-night platter, a snackable Superbowl stadium and so many others. Learn the secrets to building your own charcuterie specialties, impress guests with holiday-themed boards and serve up the sort of appetizers and beverages sure to make you the most popular host in town.

CHAPTERS
Board Basics
Snack Boards
Party Boards
Meal Boards
Holiday Boards

SELLING POINTS:
Easily assemble dozens of boards that'll be the life of any party! Incredible full-color photos of every board and step-by-step directions make you a charcuterie pro. Best of all, you'll find 219 recipes for dips, spreads, seasoned crackers, fondues and other items guaranteed to put your boards over the top.
Special holiday-themed boards mean you always have the perfect party contribution. From Easter-candy and Valentine chocolate boards to Halloween treat platters and amazing Christmas cookies trays, these cute and creative (and tasty!) ideas make every holiday merry and bright.
Incredible full-page color photos make this nearly as much of a coffee-table book as a smart kitchen resource. You'll love flipping through this hardcover collection, admiring one inspiring board after another.
A handy "charcuterie 101" section and how-to's walk you through the secrets behind truly striking boards and platters.
Hardcover | 208 pages | $24.99 USD | 8" x 10" | 9781621458302 | October 4, 2022