Taste of Home Blue Ribbon Winners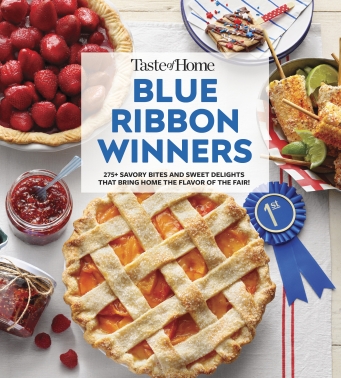 More than 275 Savory Bites and Sweet Delights that Bring Home the Flavors of the Fair
By The Editors of Taste of Home
Published by Trusted Media Brands, Inc., Taste of Home
Everyone loves state and county fairs for the fun, festivities and, most important, the food! From corn dogs, funnel cakes and turkey legs to blue ribbon pies and cakes, and award-worthy barbecue, everything just tastes better at the fair. Now you can relish those lip-smacking specialties at home!

Indulge in your favorite fair foods all year long and cook with confidence knowing that dishes in this book are prize winners! Not only will you find fair-winning recipes, but we've also included first-place specialties from chili cookoffs, barbecue competitions, baking challenges, national recipe contests and dozens of other culinary tournaments. In addition, you'll find stories and photos from state fairs all across the country as well as heartwarming memories about fairs from yesteryear. Plus, tips from our Test Kitchen pros help you capture the flavors of the fair with ease. So, get ready for fried cheese, succulent fudge, grilled corn and all things on a stick. With Blue Ribbon Winners it's never been easier to serve up a gold-star dish.

CHAPTERS
The Best Fair Foods
Fried Favorites
Snacks & Other Crowd Pleasers
Chili Cookoff & Tex Mex Winners
Prizewinning Entrees
Baked to Perfection
Winning Jams, Jellies & Preserves
Best Cookies, Bars & Brownies
Blue-Ribbon Pies
Gold-Trophy Cakes
Grand-Prize Desserts, Sweets & Treats
275+ state-fair staples and prize-winning recipes. We've collected the best of the best for this one-of-a-kind cookbook. Featuring all the flavors you'd come to expect from state and local fairs, we've also included winning dishes from a variety of recipe contests.
Stories from the fair. Enjoy delightful, funny and uplifting accounts of state fairs. From farm wives trying to perfect their pie entries to the touching friendship between a teenager and her show bull to a family celebrating their third generation of prize-winners, these true accounts make for a unique cookbook you'll page through often.
Hundreds of full-color photos. Not only will find incredible food photography sure to get your mouth watering, but beautiful shots of state and county fairs lend a touch of Americana to this amazing collection.
Nutrition Facts. Just because you're enjoying fair food doesn't mean you can't stick to an eating plan. Every recipe is accompanied with a complete set of Nutrition Facts with additional Diabetic Exchanges where applicable.
Paperback | 320 pages | $19.99 USD | 8" x 9" | 9781621457794 | May 3, 2022