School Years Record Book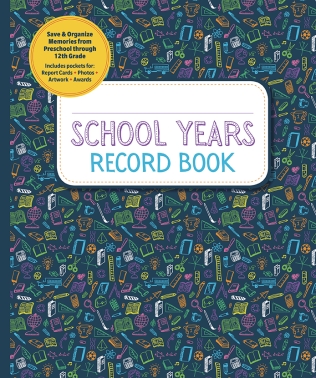 Save and Organize Memories from Preschool through 12th Grade
By The Editors of Reader's Digest
Published by Trusted Media Brands, Inc., Reader's Digest
A keepsake that will help you create a customized memory book for your child, with pockets to store awards, artwork and assignments and prompts to note special moments and milestones.Takes your child from nursery school to graduation!

You take pride in your child's many accomplishments. Now you can record his or her scholastic and extracurricular successes—and organize and store artwork, photos, report cards and other memorabilia—all in one attractive keepsake.

Special features include:
Pockets large enough to hold standard 8½ x 11 pages
Prompts to chronicle your child's favorites, achievements and dreams through the years
Spaces to place your child's school photo from every year
A concealed wiro binding to lay flat for easy use
Sturdy enough to preserve your child's memories forever, this simple yet charming album is a memento you and your family will always cherish.
• UPDATE OF POPULAR PRODUCT. School Years Record Book has been a steady seller for Reader's Digest for years. While keeping the simple and charming template that made the book so popular with parents, this edition improves upon the original.

• BOTH PRACTICAL AND SENTIMENTAL. Designed to help parents record their child's accomplishments in a fun and attractive format, School Years Record Book also helps to organize all the bits of paper that inevitably seems to come home with kids from schools—artwork, essays, report cards, awards, photos, etc.

• NEW LARGER POCKETS. Now with pockets large enough to hold standard 8½ x 11" paper.

• MODERN YET CLASSIC DESIGN. The cover and interior feature a modern yet classic design that is whimsical enough for young preschoolers but won't turn off high schoolers.

• PERFECT GIFT. A great baby shower or child's first birthday gift.
Concealed Wiro | 56 pages | $24.99 USD | 10 1/2" x 11" | 9781621458036 | August 2, 2022