Reverse Diabetes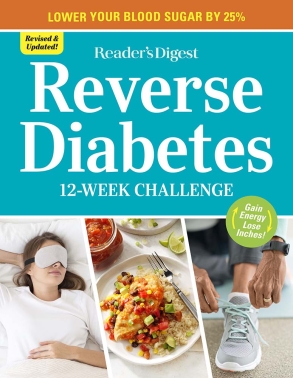 By The Editors of Reader's Digest
Published by Trusted Media Brands, Inc., Reader's Digest
With the 12-week Eat, Move, Choose plan as a reliable source of guidance and support, readers of this updated and revised edition of Reverse Diabetes will be well on their way to reversing insulin resistance, losing weight, using less medication, and feeling healthier and more energized.
Sifting through mountains of conflicting advice about managing diabetes—from friends, family, colleagues, and more—can often be overwhelming and confusing. Reverse Diabetes eliminates the need for guesswork and provides a streamlined, achievable path to better health.

The book's 12-week Eat, Move, Choose plan is broken down into concrete, manageable goals, including:
Walk at least five days a week
Include lean protein at every meal
Enjoy seven to eight hours of sleep a night
Make active choices
The goals are supplemented by step-by-step plans, interactive quizzes, infographics, recipes, and other resources that help readers understand the hows and whys behind each recommendation. With science-backed guidance that takes the most current diabetes research into account plus completely new recipes, meal plans, and other tools to make it a breeze to implement, this updated and revised volume offers an easy-to-follow 12-week challenge shown to lower blood sugar by 25 percent.

Roughly 40% of the book will be new, and includes new research, new recipes and meal plans, and new planner/tracker tools.

*Easy-to-Follow, Easy-to-Implement Steps: To help readers understand how and why the Eat, Move, Choose plan will work for them, each step has been broken down into numbered, actionable goals and accompanied by related infographics, quizzes, and useful tips.

*Additional Lifestyle Benefits: The 12-week plan in Reverse Diabetes helps readers manage their blood sugar and lose weight effectively, but it also does so much more. The book features approachable and clear guidance for improving sleep, reducing stress, and staying motivated, so readers can look forward to better physical and emotional health, elevated mood, and increased energy. All of these benefits can make life richer and more enjoyable—and also help manage blood sugar.

*Completely Revised with Up-to-Date Research and Resources: This updated edition of Reverse Diabetes builds on the evergreen foundations of the Eat, Move, Choose plan with streamlined guidance that takes the latest diabetes studies into account. New and improved planners and trackers, an expanded section on meal planning, and even more step-by-step support will prove critical to readers as they look to put the book's plan into practice. Up to 40% of the book is all new!

*Interactive Features and New Online Extras: Food diaries, weekly planners, exercise logs, checklists, and more allow readers to record, monitor, and assess their progress over the plan's 12 weeks. New online bonus content available with this edition—including downloadable PDFs, online shopping guides, and a space for readers to share their Reverse Diabetes journey—makes tracking progress and staying accountable even more convenient and hassle-free.

*Trusted Source. Reader's Digest has a long history as a trusted and authoritative of reliable health information, cutting through the confusion to bring readers just the most pertinent tips and advice.

*Cross-Channel Promotion. Reverse Diabetes will have its own hub on TheHealthy.com, Reader's Digest's health-focused website, with dietitian-created infographics and possibly a live online event for readers interested in healthy eating.
Paperback | 256 pages | $19.99 USD | 7 3/4" x 10" | 9781621458517 | November 1, 2022