Reader's Digest Use Your Words Vol. 1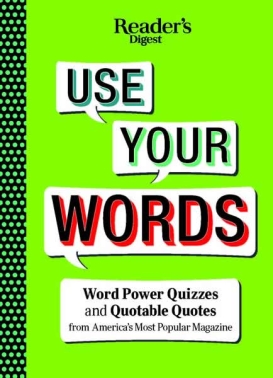 By The Editors of Reader's Digest
Published by Trusted Media Brands
Want to feel smarter? Want to have the perfect quip at the tip of your tongue? Use Your Words combines Word Power Quizzes and Quotable Quotes from Reader's Digest, Amercia's Most Popular Magazine so you can do just that!
Use Your Words is part word quiz book and part quote book, combined together in themed sections. It will be a combination of 2 of our most popular columns in Reader's Digest Magazine—Word Power and Quotable Quotes.
Quotable Quotes, as it appears today, first ran in January 1934. It was proceeded by similar quote columns, including Remarkable Remarks, which ran in the first ever issue of Reader's Digest in February 1922, and Significant Sayings, which ran in June 1922. These first columns featured the great minds of the day, including Herbert Hoover (before he became president), Lady Astor, and John D. Rockefeller. The quotes were, and continue to be, collected from a variety of books, speeches, journals, and articles. We've quoted both living and dead people.
The column hasn't changed much, except for the art. It began as a one-page list of quotes and continues to be a one-page list of quotes.
Quotable Quotes is second to Laughter the Best Medicine in column popularity.
Word Power first ran in January 1945—January 2020 will mark 75 years.
Word Power's creator, Wilfred Funk, was a poet and lexicographer—his family was the "Funk" of the reference publisher Funk & Wagnalls. He presented his quiz idea to Dewitt Wallace in 1944. Wilfred's son Peter Funk wrote the column from the 1960s to the 1990s. Current writers are a married couple who are well-known in the crossword/puzzle world: https://www.theatlantic.com/past/docs/unbound/wordgame/crbio.htm
The column hasn't changed much—it has 15 words now instead of 20. It has themed columns (car words, Italian words) rather than words based on RD. It has a sidebar that goes in-depth on something related to the theme. Word Power is our 3rd most popular column in the magazine.
Paperback | 216 pages | $9.99 USD | 5 1/4 X 7 1/4 | 9781621454236 | January 1, 2019