Reader's Digest True Crime Vol. 2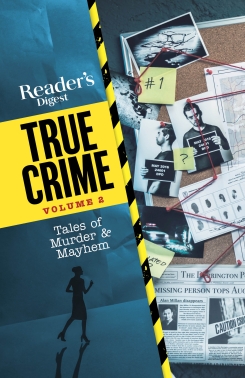 Tales of Murder & Mayhem
By The Editors of Reader's Digest
Published by Trusted Media Brands, Reader's Digest
For more than 90 years, Reader's Digest has been telling the amazing true stories of real-life thrillers, unsolved mysteries, and tales of cold-blooded murder—and of the regular folks caught up in these harrowing situations. Now we've pulled together a collection of more than two dozen of these gripping narratives, including:
The tale of the bank heist pulled off by a gang of old geezers
The bizarre story of Robert Durst, a real-estate heir accused of three grisly murders
The case of the 1849 murder at Harvard involving a professor
The harrowing account of parents who saved their daughter from a serial killer
The history of the original Ponzi scheme.
The stories in
True Crime, Volume 2
, are for crime aficionados and novices alike, tantalizing enough to hold your attention yet brisk enough to be your best beach or book club read. Enjoy the ride with a carjacker, a wife killer, and modern-day pirates living on borrowed time. (Enjoy even more how they get their just deserts.)
Selling Points
Great reads in the Reader's Digest's storytelling tradition.
Featuring a variety of unforgettable settings and characters,
True Crime, Volume 2,
includes more than two dozen gripping tales of murder, kidnapping, bank robberies, espionage, art theft, and much more.
Classic stories with new updates.
Pulling from the Reader's Digest archives, we've chosen the best true crime stories of the past 20 years and have added updates where appropriate.
True crime is hot.
From
Serial
to
Making a Murderer
, true crime stories are topping charts in every form of media.
Paperback | 240 pages | $15.99 USD | 5 1/2" x 8 1/2" | 9781621454946 | June 2, 2020