Reader's Digest The Essential Guide to CBD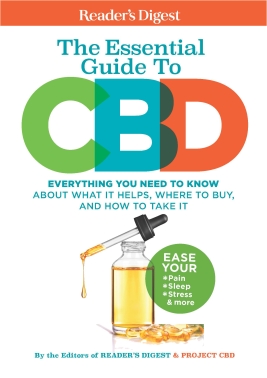 By The Editors of Reader's Digest
Published by Trusted Media Brands, Inc., Reader's Digest
The Essential Guide to CBD is an authoritative but user-friendly primer on CBD.

CBD has splashed across the nation's headlines, taken the country by storm, and has everyone from Coca-Cola to Starbucks considering adding this new "miracle supplement" to their drinks. But the FDA has only approved it for use in treating epilepsy in children.

What is CBD, anyway? What's the difference between CBD, THC, cannabis, hemp, and marijuana? Can CBD help me lose weight? How much CBD do I need to take to help my condition? What do I look for when buying CBD? Is it better to take CBD oil or gummies or what?

The Essential Guide to CBD will answer all of these questions and much more, including both first-person anecdotes of real people's experiences with CBD and straightforward reporting about what studies have actually been done and what they show.

Written in part by the experts at Project CBD, the book will separate fact from fiction, hype from reality.
Selling Points:
HOT TOPIC: CBD suddenly seems to be everywhere and has been touted as helping everything from insomnia to chronic pain to heart problems. But misinformation is prevalent, and there's a need for an authoritative expert to cut through the confusion and describe what research has actually shown.

TRUSTED AUTHORITY + SUBJECT-MATTER EXPERTISE: Readers trust Reader's Digest to get the real facts and explain them in a succinct and straightforward way. Here, Reader's Digest has partnered with the editors of Project CBD, who have been tracking and chronicling the research being done into CBD, hemp, and cannabis.

PRACTICAL GUIDE: The Essential Guide to CBD will not only explain what CBD can actually help with, but will tell you where to buy it (legally), what to look for when you buy, and how much to take.

REAL-PERSON STORIES: The book will include testimonials from real people who have tried CBD for different ailments.
Paperback | 256 pages | $19.99 USD | 6" x 8 1/2" | 9781621455066 | March 2, 2021