Reader's Digest Plant Based Health Basics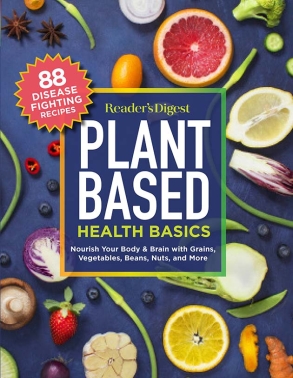 By The Editors of Reader's Digest
Published by Trusted Media Brands, Inc., Reader's Digest
A book on plant-based eating for middle America, using familiar, easy-to-find ingredients to help readers eat more healthfully.

Eating a diet higher in plant foods and lower in animal products has been shown to provide many health benefits, including reducing the risk of heart disease, cancer, and diabetes as well as aiding in weight loss. Dietary guidelines and recommendations from nutrition experts reflect this, encouraging the adoption of diets such as the Mediterranean, Flexitarian, Vegan or DASH diet that are heavy on fruits and vegetables and reduce or restrict the consumption of meat and meat products.

Whether folks are choosing to boost their nutritional intake by consuming more plants within their meat-based diets, or avoid animal product once a week such as Meatless Mondays, or go all out vegan, they need support in starting out with this new way of eating. Understanding the importance of the nutrients in fruits, vegetables, and whole grains will help the reader grasp why eating more plants will improve their overall health.

This A-Z comprehensive guide lays out all the nutrients and other compounds currently known to researchers that help fight disease. It includes:
A guide to the powerful disease-zapping nutrients in more than 40 superstar foods, from apples to winter squash, with tips on how to maximize their dietary benefits and tasty ways to include them in your daily diet
A specific food arsenal to manage and prevent more than 50 common ailments, from asthma to osteoporosis
90 delicious disease-combating recipes, including appetizers, main courses, and desserts, that make it easy to eat for good health
A new introduction explaining how whole food plant-based eating promotes health and prevents and/or reverses diseases
Recent research boxes highlight the latest studies that show the health effects of eating a fruits/veggie dense diet on health conditions

Selling Points:
PLANT-BASED EATING IS TRENDY. Nearly seven in ten Americans are trying to increase their plant-protein consumption. Walt Disney World and Disneyland have each added more than 400 vegan meals to their park menus. Major chain restaurants—Burger King, McDonalds, Hardee's, TGI Fridays, Hard Rock Café, The Cheesecake Factory, and Dunkin Donuts—are offering a plant-based alternative to beef. Elite athletes such as Venus Williams, Lewis Hamilton, Alex Morgan, Novak Djokovic, and Tom Brady are all crediting a plant-based lifestyle for increased performance.
BOOKS ABOUT PLANT-BASED EATING SELL. Five of Amazon's top twenty cookbooks are plant-based. Of US News List of 20 Best Overall Diets, thirteen focus on eating plant-based at least most of the time. Top cooking brands are jumping on the Vegan/Plant-Based bandwagon publishing books on the topic including America's Test Kitchen, Good Housekeeping, Publications International, and Martha Stewart.
PLANT-BASED EATING HAS BROAD APPEAL. Once considered a fringe diet, plant-based eating has now gone mainstream. Besides its health benefits, it is environmentally friendly and economical. The book will help readers whether they want to go completely vegan or just want to add a few more plants to their meat-based diets.
EASY-TO-USE INFORMATION FROM A TRUSTED SOURCE. Like all Reader's Digest health books, Plant-Based Health Basics is authoritative yet friendly and relies on common, easy-to-find ingredients.
BEAUTIFUL PACKAGE. Illustrated with stunning full-color photographs and featuring an elegant design, the book is also a feast for the eyes.
Paperback | 320 pages | $19.99 USD | 7 3/4" x 10 | 9781621455516 | March 2, 2021