Reader's Digest Plant Based Cooking for Everyone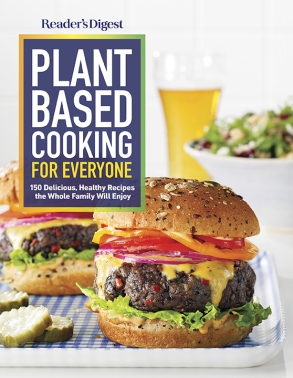 More than 150 Delicious Healthy Recipes the Whole Family Will Enjoy
By The Editors of Reader's Digest
Published by Trusted Media Brands, Inc., Reader's Digest
A plant-based cookbook for middle America, featuring more than 150 quick and easy recipes for healthy favorites.
Plant-based eating is more than the latest diet fad. It's a research-proven path to losing weight, living longer, and preventing heart disease, cancer, and a whole host of other health issues. Plus it's environmentally friendly and easy on the wallet.

With Plant-Based Cooking for Everyone readers will find support and inspiration wherever they are on their plant-based journey. It includes:
More than 150 tasty and healthy breakfasts, entrees, quick meals, and even desserts, such as Pinto Bean Tostadas, Banana Blueberry Pancakes, and Best Gluten-Free Chocolate Cake
Just the basics on key nutrients, ingredients, and benefits of plant-based eating
Tips on how to build a plant-based pantry, adapt favorite recipes to be plant-based, and shop for a plant-based diet (including the difference between all the new plant-based "meats" now on the market)
Sample meal plans that pull recipes together for different needs: on a budget, in a hurry, heart-healthy, low-fat, etc.
Easy additions and substitutions for those who aren't ready to give up meat completely—as well as for those who want to go fully vegan.
Featuring beautiful photographs and easy-to-find ingredients in recipes tested by readers like you, Reader's Digest's
Plant-Based Cooking for Everyone
makes plant-based eating easy and fun for everyone.
Paperback | 320 pages | $19.99 USD | 7 3/4" x 10 | 9781621455776 | February 1, 2022