Reader's Digest Complete Guide to Sewing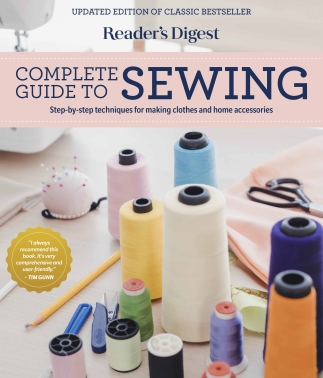 Step by step techniques for making clothes and home accessories
By The Editors of Reader's Digest
Published by Trusted Media Brands, Inc., Reader's Digest
An indispensable volume for beginning and advanced sewers alike that guides readers through necessary equipment, techniques, fabrics and more.

First published in 1978, Reader's Digest's popular Complete Guide to Sewing has become the standard stich-and-seam reference book for both beginner and seasoned sewers. Now, Reader's Digest has refreshed this tried-and-true volume for the modern era, adapting it to current trends while preserving the comprehensive, practical and inspiring content within.

Reader's Digest Complete Guide to Sewing gives sewers of every experience and comfort level everything they need to know to create the wardrobe of their dreams and beautify their homes with original decorative accents. Clear, simple instructions written by experts in the field tell you what to do and how to do it. Plus, thousands of illustrations and diagrams throughout the book's 384 pages illustrate each stage of the process. Key elements of the book include:
A detailed list of the basic equipment you'll need before getting started sewing.
Tips for choosing the right fabric for your project.
A step-by-step photo guide that shows you how to take measurements.
Instructions in a variety of essential hand-stitching techniques.
20 timeless projects—more than half of them new to this edition—to practice your skills including shirts, dresses, bags and more.
Plus, the book has received endorsements from a variety of trusted sources:

"…and I always recommend the Reader's Digest Guide to Sewing. It's very comprehensive and very user-friendly."

—Tim Gunn

"…abundant and precise line art, enticing photographs, simple-to-follow instructions and valuable information on tools, supplies, materials and techniques."

—The New York Times

"A woman who takes sewing seriously, or who wants to learn to sew, won't want to be
without this book."
—Portland Oregon Journal

"Here is everything you always wanted to know about sewing—a veritable encyclopedia of stitching facts."

—The Austin American Statesman

COMPLETELY COMPREHENSIVE. At 384 pages and with 11 chapters, the book leaves nothing out; readers are instructed in everything from threading a needle to the different types of button application.
UPDATED FOR THE 21ST CENTURY. The book has been reviewed by Kent State instructor in Fashion Design & Merchandising Caroline Surrarrer to ensure it remains up-to-date and in line with today's trends.
USEFUL FOR ALL. While other books take a "beginner" angle, our book offers something for sewers of all skill levels — it covers basic techniques as well as more advanced methods.
A TIMELESS CLASSIC. First introduced in 1978, this volume has been recommended by sewers ever since and remains popular within the sewing community. (It even received a shout-out from Tim Gunn!)
EASY TO UNDERSTAND. Instructions and techniques explained in the text are paired with color photos to make them accessible and understandable for all.
FUN PROJECTS TO PUT SKILLS TO USE. Readers can test their skills on 20 timeless projects—some new to this edition—which are designed to help reinforce learned techniques. Projects include shirts and jackets, blankets, and more.
Hardcover | 384 pages | $35.00 USD | 9 3/8" x10 1/2" | 9781621458012 | August 2, 2022