Quotable Quotes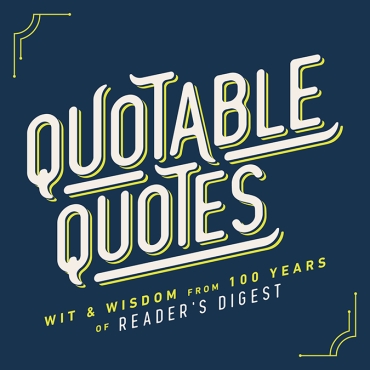 Wit & Wisdom from 100 years of Reader's Digest
By The Editors of Reader's Digest
Published by Trusted Media Brands, Inc., Reader's Digest
A wide-ranging collection of inspirational, humorous, powerful, relatable, witty, and eminently quotable quotes for every occasion.
Book Description:

Featuring a carefully selected array of Quotable Quotes from the beloved Reader's Digest column, this giftable and eclectic collection of inspiring, funny, and memorable words has something for everyone to enjoy. The thoughtfully chosen quotes from famous figures in the arts, sports, politics, and more cover myriad topics, including:
Friendship

"Lots of people want to ride with you in the limo, but what you want is someone who will take the bus with you when the limo breaks down." —Oprah

Success

"My father used to say, 'If you want to be different, do something different.'" —Wynton Marsalis

Wisdom

"Wisdom outweighs any wealth." —Sophocles
Attractively presented with attention and care, the witticisms and reflections in this book will motivate, inspire, entertain, and delight—just as Quotable Quotes always have.

*Names You'll Know: Quotable and notable: The individuals quoted in this volume—from ancient philosophers to the celebrities at the very top of today's A-list—are some of the most recognizable figures across their respective industries and eras. Famous actors, poets, politicians, comedians, athletes, and more all offer their unique and intriguing perspectives.

*Inspiration for All Occasions: A good quote always comes in handy. Whether a reader wants to inspire their colleagues, comfort a family member, make a good friend laugh, set up their email signature, or start a stellar speech, they're sure to find what they're looking for.

*Design that Allows Every Quote to Shine: A new format highlights quotes with an attractive background and ample space. Spotlighting one or two quotes per page facilites quick browsing and makes the book easy to pick up from a coffee table or desk. As readers let their eyes linger over the creative lettering and colorful backgrounds, they can pause to be inspired, smile, or reflect before putting the book down or flipping to a new page.

*All-new follow-up to successful book. With a completely new design and selection of quotes, this is a contemporary successor to the Quotable Quotes compilation last updated in 2016.

*Based on one of Reader's Digest's longest-running columns. Quotable Quotes, as it appears today, first ran in January 1934. It was proceeded by similar quote columns, including Remarkable Remarks, which ran in the first ever issue of Reader's Digest in February 1922, and Significant Sayings, which ran in June 1922. These first columns featured the great minds of the day, including Herbert Hoover (before he became president), Lady Astor, and John D. Rockefeller. The quotes were, and continue to be, collected from a variety of books, speeches, journals, and articles and feature quotes from both living and dead people.

Hardcover | 176 pages | $14.99 USD | 6 3/4" x 6 3/4" | 9781621458500 | October 11, 2022