Our Canada Our Country Our Stories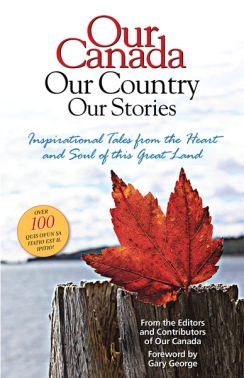 Inspirational Tales from the Heart and Soul of this Great Land
Published by Trusted Media Brands
An inspirational collection of stories from Our Canada magazine submitted and told by Canadians.
Let's shine a spotlight on the talents and good works of everyday Canadians across the country, drawing upon material from the following magazine departments: Showcase, Cause for Applause, Crafty Canadians and Canadians Abroad. A blend of first-person stories, accompanying photos, and sidebar highlights/factoids on related fields of endeavour.
Stories will be pulled directly from our most popular sections of the Our Canada magazine:
Showcase: Celebrates the talents of everyday Canadians—from painters, dancers and singers to acrobats, deep-sea divers, racecar drivers and more.
Valour: True stories that commemorate the sacrifices of our brave men and women in uniform. Produced in association with Veteran Voices of Canada along with Special Remeberance pages.
Cause for Applause: A nod to "good works" and deeds that benefit others.
Crafty Canadians: Arts and crafts, from the traditional to the avant-garde.
Canadians Abroad: Ex-pat Canadians tell us where they're at and what they're up to.
Community: Canadians celebrate their communities, lifestyle, passion, culture, and inclusivness.
Adventure: From camping on the tundra to motoring cross-country, here are tall tales for the adventurer.
Paperback | 320 pages | $14.99 USD | 5.5 x 8.5 | 9781621454090 | September 18, 2018