Natural Cleaning Secrets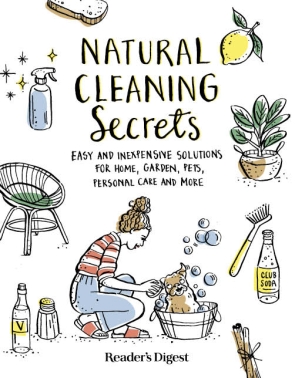 Easy and Inexpensive Solutions for Home, Garden, Pets, Personal Care and More
By The Editors of Reader's Digest
Published by Trusted Media Brands, Inc., Reader's Digest
Save time and money with natural cleaning hacks for a healthier, greener household by using items you already have at home such as vinegar, baking soda and lemon juice.
Discover the natural way to keep your home clean for less time and money. Natural Cleaning Solutions features:
Natural cleaning solutions that are effective and affordable.
Sound advice that truly works and is so simple that you will see how easily you can make the change in your everyday life.
Homemade recipes to get you started making your own natural dishwashing liquid, laundry detergent, facial cleansers, and much more—using items you probably already have at home, such as baking soda, salt, vinegar, and lemon.
When you follow the tips in Natural Cleaning Solutions, you'll not only enjoy a gleaming and freshly scented home free from toxic chemicals, you'll spend less time and money at the store and you'll create less waste. So you can feel good about doing your bit to help the environment. And the best part is everything here is natural!

• ALL NATURAL! The information in this book provides natural-based cleaning solutions to help eliminate toxic chemicals that could be harmful to oneself, children, pets and the planet. The book has been reviewed by Bruce Vance, co-owner of Town & Country Cleaning Services to make sure all the cleaning solutions recommended are safe, effective and eco-friendly.


• FOR ALL LEVELS OF CLEANING. From spot cleaning to daily and weekly cleaning tips to once-a-year spring cleaning, all levels of house and home cleaning are addressed.

• QUICK AND EASY TO USE. The book is full of quick tips and handy hacks so readers will find something useful on any page. This makes the book and subject matter more approachable and not overwhelming, making cleaning fun!

• RECIPES FOR NATURAL CLEANING PRODUCTS. Readers can create homemade products with natural ingredients from the recipes in the book for general household cleaning to personal care and more.

• NOT LIMITED TO INSIDE AREAS. In addition to the typical kitchen, bathroom, and bedroom cleaning solutions, the book also includes info how to clean the garage and car and how to protect against pests in the garden. Plus the book provides useful recipes and easy-to-use cleaning advice for pets.
Paperback | 256 pages | $19.99 USD | 7" x 9" | 9781621457992 | July 19, 2022