Living Large in Our Little House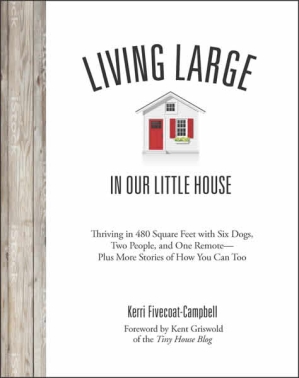 By Kerri Fivecoat-Campbell
Published by Trusted Media Brands
Based on the successful blog, Living Large in Our Little House, the book is a practical and inspirational memoir about the joy and freedom of tiny house living.
Traditionally, the American Dream has included owning a house, and until recently that meant the bigger the better. McMansions have flourished in suburbs across the country, and as houses got bigger we filled them with more stuff. Kerri Fivecoat-Campbell had been subconsciously trying to live up to this American Dream when circumstances forced her and her husband into a 480-square foot house in the woods. What was supposed to be a writing cabin and guest house became their full-time abode and they quickly discovered that they had serendipitously discovered a better way of life.
They realized that by living smaller, they were in fact, Living Large. They were not spending extra time cleaning and maintaining the house, but had the freedom to pursue their hobbies; they did not waste money on things they didn't need; and they grew emotionally (as well as physically) closer. Kerri and her husband realized that Living Large is less about square footage and more about a state of mind.
As Kerri relates the story of her transformation to a "Living Larger," she also profiles more than a dozen other families living tiny house lives and offers practical advice for how you can too. The book will:
walk you through the financial advantages of small space living
help you define and find the right size house
teach you to scale down to the essentials to be surrounded only by things you love
show you how to make use of outdoor space
give tips on how to decorate judiciously
and much more.
Whether readers are inspired to join the tiny house movement or not, they are sure to be inspired to Live Large with less.
Paperback | 240 pages | $15.99 USD | 7.5 X 9.25 | 9781621454250 | March 12, 2019