Laughter Really is the Best Medicine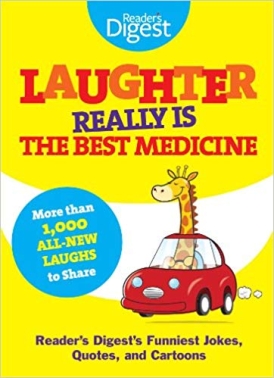 America's Funniest Jokes, Stories, and Cartoons
By The Editors of Reader's Digest
Published by Trusted Media Brands
This collection of laugh-out-loud jokes, one-liners, and other lighthearted glimpses of life-drawn from
Reader's Digest
magazine's most popular humor columns—is sure to tickle the funny bone. Packed with more than 1,000 jokes, anecdotes, cartoons, quotes, and stories contributed by professional comedians, joke writers, and readers of the magazine, this side-splitting compilation pokes fun at the facts and foibles of daily routines, illustrating that life is often funnier than fiction.
Did you hear about the Broadway actor who broke through the floorboards? He was just going through a stage.
What did the ill comic say in the hospital? "I'm here—all weak!"
Charles Dickens walks into a bar and orders a martini. The bartender asks, "Olive or twist?"
Posted in a dental office: "Be kind to your dentist. He has fillings too."
"The main advantage of being famous is that when you bore people at dinner parties, they think it is their fault."—HENRY KISSINGER, NOBEL PEACE PRIZE, 1973
As Groucho Marx once said, "A laugh is like an aspirin, only it works twice as fast."
paperback with French flaps | 216 pages | 5 1/4 x 7 1/4 | 9781606522042 | January 6, 2011