Inspired...to Make a Difference Every Day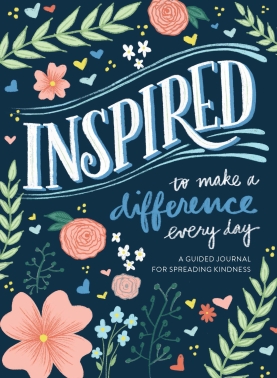 By The Editors of Reader's Digest
Published by Trusted Media Brands, Inc., Reader's Digest
A beautiful guided journal for anyone interested in making a difference in the community and in the world

Now more than ever, it's important to find new ways to connect and make the world a kinder place. But finding meaningful ways to make change can be daunting. Enter Inspired to Make a Difference Every Day, a guided journal full of easy ideas for spreading kindness to friends, family and strangers; helping the environment; giving back to your community; and focusing on what unites instead of divides us. Inside the journal, you'll find small yet effective ways to change the world every day, such as:
Smile at a stranger.

Donate unused credit card points or airline miles to charity.

Write a glowing online review of a local business.

Volunteer for a shift at a soup kitchen.

Praise a colleague's hard work to their boss.

Forgive someone who hurt you.

Offer to grocery shop or pet sit for a doctor or nurse.

Attend a service for a faith that is not your own

Give your family the gift of your presence—go screen-free for a day.

In addition, the journal includes space to record and reflect on your actions, as well as resources for learning more and doing more.

Featuring colorful artwork, inspiring quotes, and true stories of compassion from the pages of Reader's Digest, this journal is the perfect way to make a difference.

Key Selling Points:

EASY WAYS TO MAKE A DIFFERENCE. More than 60 simple and fun ideas to spread kindness, improve the environment, broaden one's worldview, and be more present and connected.
THE PERFECT BOOK FOR THE TIMES. With people more eager than ever to connect and create meaningful change, it's the perfect time for a proactive guide to making a difference.
TRUE STORIES FROM READERS OF READER'S DIGEST. Filled with inspiring, real-life anecdotes of kindness and caring submitted by readers from across the country.
Paperback | 128 pages | $15.99 USD | 5 1/2" x 7 1/2" | 9781621455455 | January 5, 2021