Insider Secrets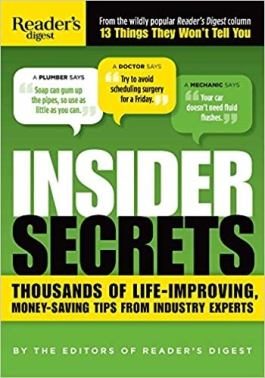 Thousands of Life-Improving, Money-Saving Tips from Industry Experts
By The Editors of Reader's Digest
Published by Trusted Media Brands
From the wildly popular Reader's Digest column "13 Things They Won't Tell You" here are more than 5,000 trade secrets, professional tips, juicy secrets, and insider perspectives to save money and time, get better service, and avoid being scammed.
Every month, in its wildly popular "13 Things They Won't Tell You" column, Reader's Digest asks selected experts from a different profession to spill their secrets. Readers walk a mile in their shoes and see things that are enlightening, horrifying, and give them a whole new perspective on the people they trust with their food, health, family, money, and home. They walk away with the keys to awesome backdoor deals, insider knowledge that saves them tons of money, and invaluable advice for getting better service anywhere they go.
Now, this wisdom has been collected into one comprehensive volume, complete with updates, all-new interviews, and thousands of additional secrets. In Insider Secrets, you'll find out how to:
make sure your doctor is the most experienced one in the hospital
score the best deals from a car salesman
baffle burglars and identity thieves
avoid getting fired, according to HR
find the freshest food in the store
and much more!
Paperback | 384 pages | 7" x 10" | 9781621453499 | July 4, 2017