Great American Road Trips: Best of 50 States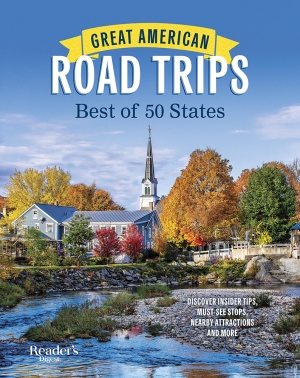 By The Editors of Reader's Digest
Published by Trusted Media Brands, Inc., Reader's Digest
Fuel your wanderlust with America's best travel destinations and get inspired to explore the natural beauty and rich history of all 50 states.
The title says it all: Get the top road trip vacations the United States has to offer, all in one book. From small-town pit stops and off-the-beaten-path adventures to renowned historical sites and breathtaking parks, the destinations highlighted in this volume emphasize the unique beauty and history that each state has to offer.

Whether you are a nature lover, history buff, or veteran road warrior, the incredible photography in this volume, along with the included recommendations for nearby attractions, lodging, recreation, and more, will inspire you to get packing. Jump in the car or RV and share these experiences with the ones you love!

Recommendations for All 50 States: Featuring a must-see travel destination from every state, Best of 50 States will inspire you not only to pack your bags for cross-country travel but also to discover the very best adventures in your own backyard.

* Small-Town Treasures, National Parks, Scenic Drives, and More: Whether you're looking to stand in awe of snow-capped mountains in Montana's Glacier National Park; dive into the details of American history in Gettysburg, Pennsylvania; or enjoy some nostalgic fun along Route 66, adventure awaits for travelers of all stripes in this thoughtfully considered book.

*Immersive Photography: Breathtaking photos of national parks, historic main streets, and quintessentially American landscapes allow you to experience the country's incredible geography and culture, whether you choose to dig out your suitcases right away or just take a moment to enjoy the photos and fascinating stories.

Location List
WEST
Road Trips from Anchorage, Alaska
Pacific Coast Highway, California
Peak-to-Peak Scenic Byway, Colorado
Volcanoes National Park, Hawaii
City of Rocks, Idaho
Glacier National Park, Montana
Lamoille Canyon, Nevada
John Day Fossil Beds, Oregon
Scenic Byway 12, Utah
San Juan Islands, Washington
Yellowstone, Wyoming
SOUTHWEST
Catalina Highway, Arizona
Mesilla, New Mexico
Elk City, Oklahoma
Piney Woods, Texas
MIDWEST
Shawnee National Forest, Illinois
Nashville, Indiana
Northeast Region, Iowa
Elk Falls, Kansas
Tunnel of Trees, Michigan
Caledonia, Minnesota
Hannibal, Missouri
Sandhills, Nebraska
Casselton, North Dakota
Ashtabula County, Ohio
Black Hills, South Dakota
Amish Country, Wisconsin
SOUTHEAST
Appalachian Highlands, Alabama
MONAH, Arkansas
Sanibel and Beyond, Florida
Savannah, Georgia
Horse Country, Kentucky
Cane River, Louisiana
Chesapeake & Ohio Canal, Delaware
Neshoba County Fair, Mississippi
Flat Rock, North Carolina
Hunting Island, South Carolina
Cocke County, Tennessee
Chincoteague, Virginia
New River Gorge, West Virginia
NORTHEAST
Mystic Country, Connecticut
Bayshore Byway, Delaware
Highlands, Maine
Quabbin Reservoir, Massachusetts
White Mountains, New Hampshire
Millbrook Village, New Jersey
Finger Lakes, New York
Gettysburg, Pennsylvania
Trustom Pond Wildlife Refuge, Rhode Island
Mad River Valley, Vermont
NATIONAL PARKS
Kenai Fjords National Park, Alaska*
Lake Clark National Park, Alaska*
Denali National Park, Alaska*
Hawaii Volcanoes National Park, Hawaii
Glacier National Park, Montana
Yellowstone National Park, Wyoming
Everglades National Park, Florida*
Great Smoky Mountains National Park, Tennessee*
New River Gorge National Park and Preserve, West Virginia
*mentioned within a wider story
Paperback | 192 pages | $19.99 USD | 8" x 10" | 9781621458456 | October 4, 2022