Great American Road Trips - National Parks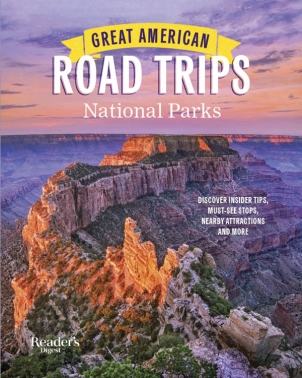 Discover insider tips, must see stops , nearby attractions & more
Great American Road Trips
By The Editors of Reader's Digest
Published by Trusted Media Brands, Inc., Reader's Digest
First-person accounts and gorgeous landscape photos paired with practical information and tips to help travelers make the most of their journeys through more than 40 national parks.
National parks are America's most-beloved treasures. The editors of Reader's Digest magazine reveal first-person accounts and gorgeous landscape photos paired with practical information and tips to help travelers make the most of their journeys through these unique areas.

Included you'll find information on more than 40 national parks and incredible images from readers. Plus:

• A historical introduction along with a national park timeline.
• An illustrated map of each state for each national park story, pointing out the location of the park within the state with a marker.

• Inspirational and gorgeous photos in gallery sections for each region to make this a terrific coffee table book or gift for travelers.

• Then and now comparison photos of national parks.

• Helpful added information, including possible rest stops, can't-miss area hot spots, fun facts, handy advice for planning ahead, possible side trips and nearby attractions.

Whether you're an armchair traveler or ready to pack and roll, Great American Road Trips: National Parks has everything that you are looking for.

Selling Points
INSPIRATION FOR ALL KINDS OF TRAVELERS. From history buffs to armchair travelers, nature lovers to road warriors, this book contains information and inspiration for all types of travelers.
PERENNIAL FAVORITES. National parks are always popular destinations, and never more so than now.
PERSONAL STORIES. First-person accounts from readers about their trips to national parks add a personal touch to this unique guide.
PRACTICAL PLANNING ADVICE. Maps and tips about rest stops, nearby attractions, and other advice help travelers make the most of their trips.
BEAUTIFUL PACKAGE. Inspirational and gorgeous photos make this a terrific coffee table book or gift for armchair travelers.
Paperback | 192 pages | $19.99 USD | 8" x 10" | 9781621457305 | October 5, 2021